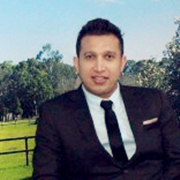 Nick Myint is Co-founder and Chief Executive Officer of Australian Dairy brand Little Treasure. Little Treasure is an Australian owned company committed to providing premium quality Australian milk powder products to international markets. Little Treasure is currently sold across Australia and across China and South East Asia with a predominant focus on infant formula.
Nick Myint is a tech-savvy entrepreneur in the world's highly competitive agrifood patent landscape with a long track record in IT innovations and smart communications. He is geared towards the next level development for traditional growers and farmers in different parts of the world, including Burma, China and the United States and Australia. He seeks to add value to the stakeholders by using smart technology to enhance productivity and return on capital.
He is particularly interested in the end-to-end distribution model in a new era of digital communications. With 22 years of experience in international business operations and management, he has solid connectivity in China with contacts at different levels of government. He is a specialist in cross-border business operations in a number of international dairy projects.
As a board director of the China Australia Chamber of Commerce, he aims to drive industry-led discussion in the Australian dairy sector to better inform, equip and facilitate Australian and Chinese business exchange both in Australia and China.