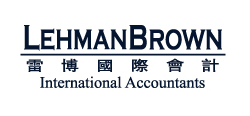 LehmanBrown is a China-focused accounting, taxation and business advisory firm, operating in Beijing, Shanghai, Hong Kong, Macau, Shenzhen, Guangzhou and Tianjin. The firm also manages an extensive affiliate network, providing service throughout China.
Combining years of international expertise with practical Chinese experience and knowledge, LehmanBrown offers expert advice and support to both local and international clients. Clients enjoy access to senior, experienced professionals from China and many other countries.
At LehmanBrown we recognise that you are unique, and you have unique requirements. We are committed to providing individually tailored financial solutions to each of our clients. LehmanBrown is dedicated to providing personalised service by working closely with our clients to understand their individual business requirements. This enables us to offer our clients the most up-to-date and expert advice for all their unique needs.
Categories: Professional Services