Invitation邀请函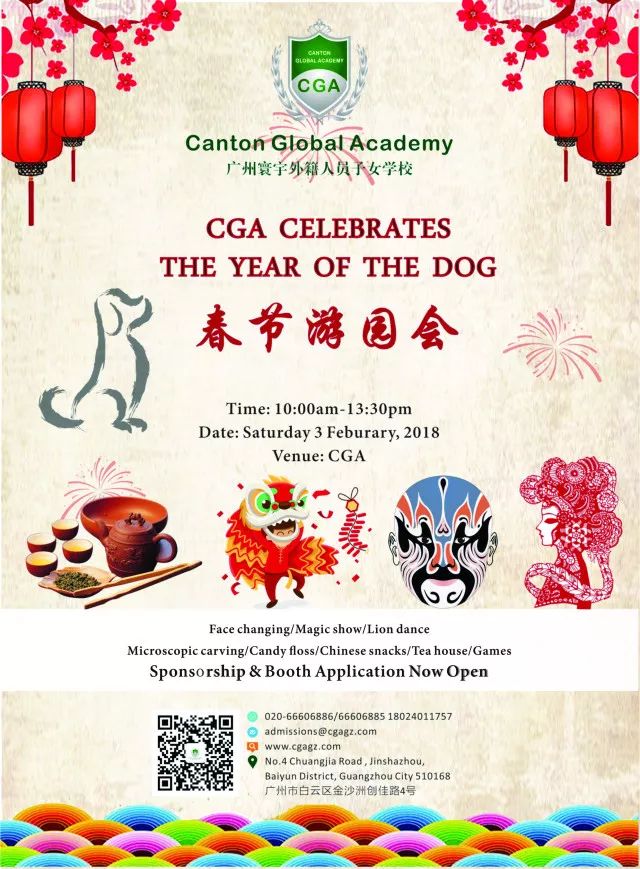 Welcome to CGA's celebration of 2018, the Year of the Dog. Today is all about China so you can enjoy Chinese costume performancesby the students and staff, watch the creation of traditional folk art and enjoy games, gift stalls and seasonal Chinese cuisine.
Welcome you and your friends!
本次的春节庆典将是一个中国传统和艺术的盛会,带你体验多种神秘有趣的传统中国艺术。诚挚邀请您以及您的朋友参加。
还有大奖可以拿哦!
---
GRAND RAFFLE DRAW
1st PRIZE
Apple iPad
2nd PRIZE
VOUCHER
for
One Weekend at Luxury Hotel
3rd PRIZE
VOUCHERS
for
Deron Whitening Package
(Worth RMB6,980)
Health Check for Woman(Worth RMB5,999)
One Year Fitness Gym Membership
(Worth RMB5,000)
Health Check for Man(Worth RMB4,999)
Health Check (Worth RMB4,085)
Other prizes include, bottles of wine, chocolates, tins of biscuits, fruit hamper, vouchers, children's toys, board games etc.
幸运大抽奖
一等奖
Apple iPad
二等奖
豪华周末度假酒店
三等奖
价值6980元的德隆口腔美白套餐
价值5999元的保柏女生健康检查券
价值5000元的一年健身会员卡
价值4999元保柏男生健康检查券
价值4085元的伊丽莎白身体健康检查
还有很多其他奖品,酒、巧克力、饼干、果篮、券、儿童玩具、棋类游戏等等
大奖等您来拿!
---
Event Details

Date: Saturday, February 3rd, 2018
Time: 10:00 – 13:30
Venue: Canton Global Academy
Address: NO.4 Chuangjia Road, Jinshazhou, Baiyun District, Guangzhou
活动详情



日期:2018年2月3日 (星期六)
时间:10:00 – 13:30
场地:广州寰宇国际学校
地址:广州市白云区金沙洲创佳路4号
Any questions
please contact our marketing staff:
020-66606886
To register please scan the QR code below
Connect to WiFi
if you have problem scanning the QR code
订票请扫描二维码
如果无法打开链接/二维码
请切换到WiFi环境