90s Christmas Party
12-18-20 @ 6:30 pm

-

10:30 pm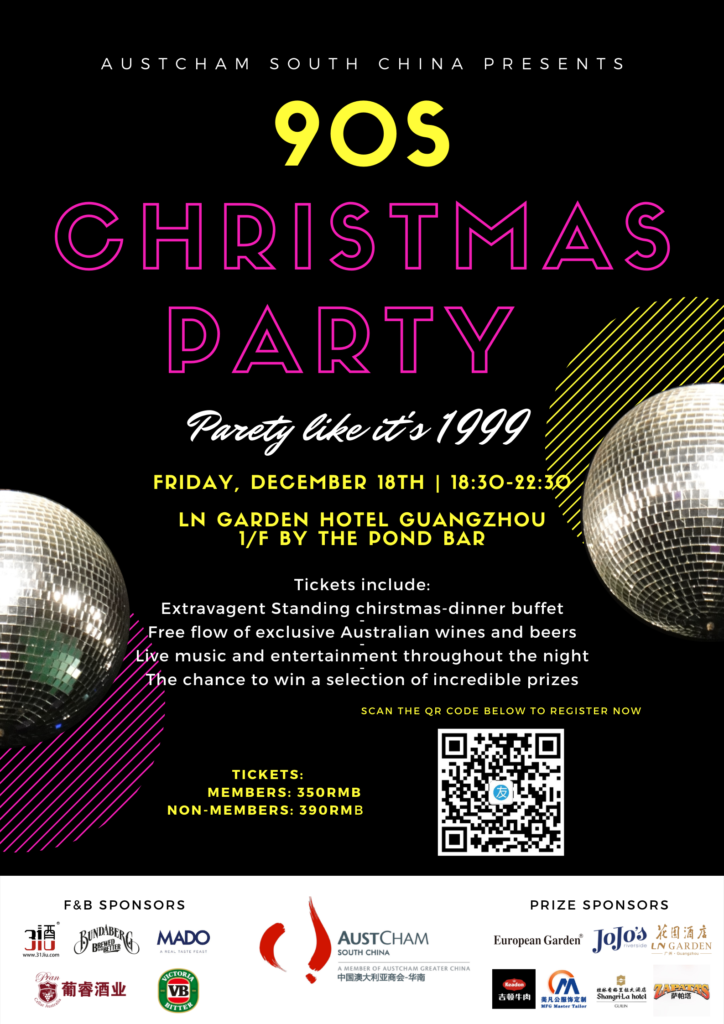 AustCham South China is having a 90s Christmas Party in Guangzhou and you are invited!
中国澳大利亚商会华南正在广州举行90年代圣诞派对,欢迎您!
We are going to party like its 1999. Time to dress up in your favourite 90s fashion clothing and get set to celebrate Christmas in style!
我们将像1999年一样参加聚会。该穿着90年代的时尚服装了,准备庆祝圣诞节的时尚!
Have you ever wanted to dress like some of the most iconic 90s stars, but never had the chance? Well finally you can whip out that dusty dress and musty fedora from the back of your closet and put them to some good use!
您是否曾经想像某些90年代最具标志性的明星一样打扮,却从未有过机会?好吧,最后,您可以从壁橱的背面抽出那件尘土飞扬的衣服和发霉的软呢帽,并加以利用!
There will be an amazing array of food available throughout the night with a delicious Aussie Christmas dinner buffet!
一整夜都有各种美食供您选择,还有美味的澳洲圣诞节自助晚餐!
Don't worry drink lovers it wouldn't be a party without alcohol! There will be a free flow of wine and beer along with a selection of fabulous cocktails from 31 Jiu!
别担心喝酒的人,没有酒精就不会成为聚会! 31酒会免费提供葡萄酒和啤酒,以及精选的精美鸡尾酒!
As for entertainment, no party would be complete without music! A great Australian band "down underground" will be performing live music along with 90s hits and your favourite Christmas songs throughout the night!
至于娱乐,没有音乐,任何派对都是不完整的!澳大利亚一支出色的"地下乐队"将在整个晚上表演现场音乐以及90年代的流行歌曲和您最喜欢的圣诞节歌曲!
We look forward to a wonderful night of networking, socialising and spreading the Christmas cheer and celebrating the end to another year!
我们期待着一个美好的社交之夜,社交并传播圣诞节的欢呼声,并庆祝圣诞节结束!
When: 18:30 – 22:30, Friday 18th December
Venue: LN Garden Hotel Guangzhou, 1/F By the Pond Bar
Address: 368 Huanshi Dong Road, Guangzhou, China 510060
Member Price: RMB 350              Non-member Price RMB 390
Corporate Group Tickets for more than 10 guests available, please contact: events_communications.southchina@austcham.org for more information.
时间与日期:下午6点半到10点半,12月18日,星期五
地点:广州花园酒店,一楼锦鲤酒吧
地址:广州市越秀区环市东路368号
会员价格:RMB350             非会员价格: RMB390
可购买10人以上团体票,详情请咨询:events_communications.southchina@austcham.org
Scan the QR code below or click the link to register now
https://yoopay.cn/event/88480812