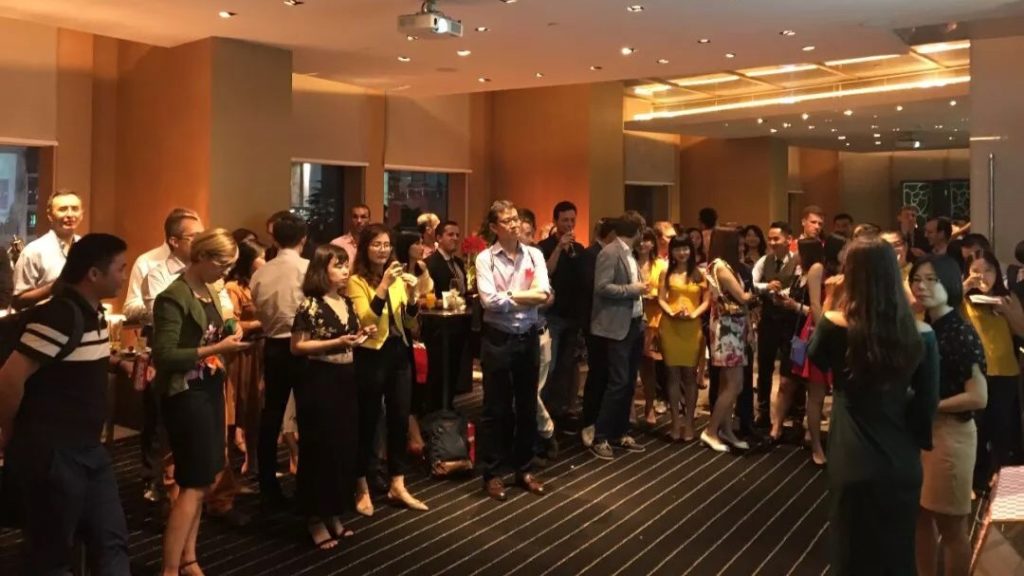 The Australian Chamber of Commerce South China is honoured to support the InterChamber Drinks in Guangzhou on April 17th hosted by the Spanish Chamber of Commerce and German Chamber of Commerce, along with the support of 5 other International Chambers. The InterChamber Drinks, which will be held at the Jojo's Riverside, is an excellent event for all business people who want to expand their business network in the international community in South China, and will include interesting games, great prizes, delicious finger food, wine and beer. This time we have prepared a special early bird price before April 12th, book your seats now!
澳大利亚商会华南将支持西班牙及德国商会于4月17号在广州举办联合商会酒会。此次酒会将在Jojo's Riverside隆重举办,将为中国华南地区所有企业家提供拓展国际商业伙伴关系的绝佳机会。不仅如此,参加此次酒会,您还可享受美酒佳肴、参与趣味游戏以及抽奖环节。此次酒会我们还特意为您准备了优惠票价,4月12日之前报名即可享受早鸟优惠,赶快报名吧!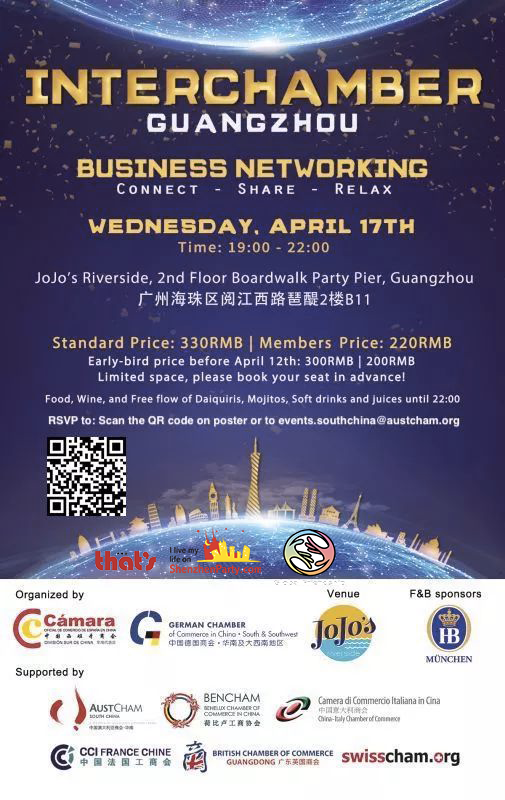 InterChamber Networking Drinks GZ
Date: Wednesday, April 17th, 2019
Time: 7pm to 10pm
Venue: Jojo's Riverside
Address: 2nd floor Boardwalk Party Pier, Guangzhou
Early Bird Price: Members 200RMB, Non-Members 300RMB (Before 12th April)
RSVP: Please scan the QR code on the poster or e-mail to events.southchina@austcham.org
Ticket cancellation and refund will not be acceptable within 24 hours before the event, thanks for your understanding.
广州联合商会酒会
日期:2019年4月17日星期三
时间:7pm to 10pm
场地:Jojo's Riverside
地址:广州海珠区阅江西路琶醍2楼B11
早鸟价:会员200元,非会员300元 (4月12日截止)
报名方式:扫描海报上的二维码或者发送电子邮件至events.southchina@austcham.org
活动开始前24小时内将无法取消报名或申请退款,感谢您的谅解。