Doing Business in China Report Launch Seminar
21 May @ 5:30 pm

-

8:00 pm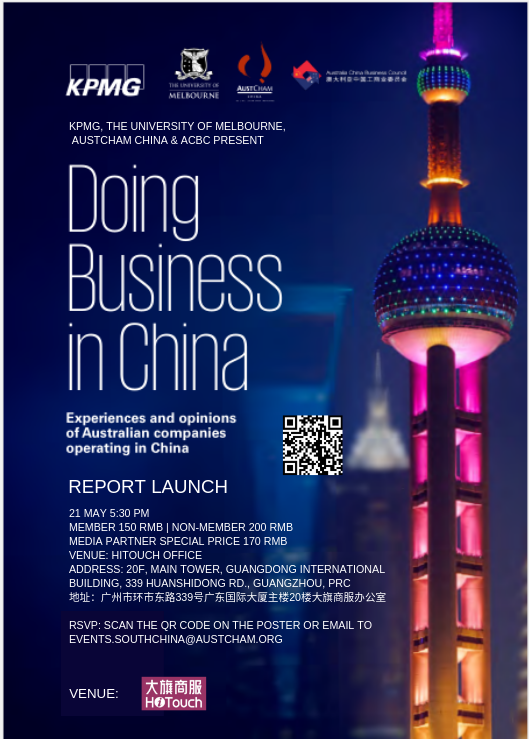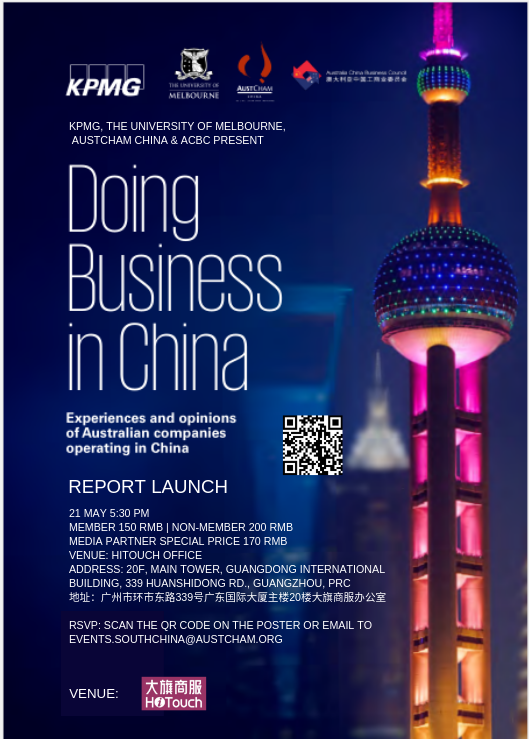 AustCham South China is proud to present the "Doing Business in China Report Launch seminar".
The report is a critical tool for the chamber and follows the survey of members of AustCham and ACBC conducted in Quarter 3 2018 to help Australian business understand the opportunities and challenges dealing with companies in China. This report highlights the present and future benefits of the China-Australia Free Trade Agreement and its impact on bilateral trade. The survey helps reflect and uncover some of the frustrations and obstacles facing Australian businesses in China.
This event offers a good opportunity for Australian companies in South China to get a better understanding of the current development of China's economy and  market, as well as to adjust their business strategy to fit this market.
The report explains several key findings, such as the investment environment, as well as economic and policy conditions, China's business climate, bilateral relations, and presents other key findings such as a figure of 83% of the respondents flagging human resources as a top cost concern when doing business in China. Our industry experts and government representative will share their insight of the report and their experiences. Please come along, and take advantage of the Q&A session to clear up any concerns you may have.
 Panelists Information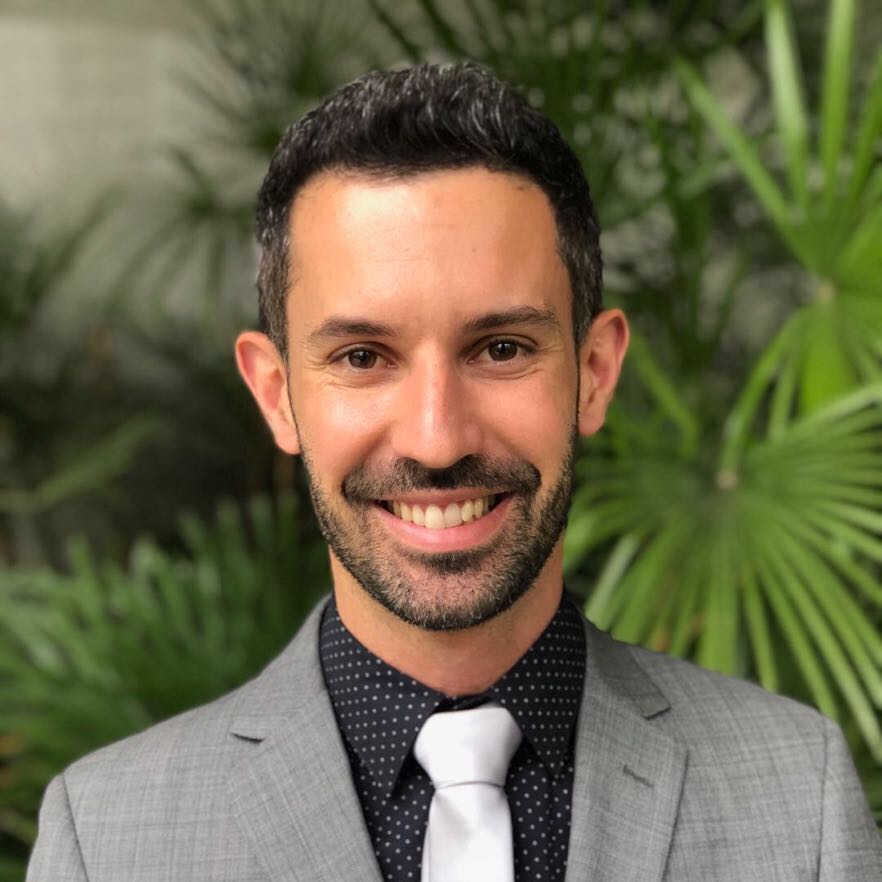 Geoff Matthews 
Consul (Political / Economic) 
The Australian Consulate-General, Guangzhou, China.
Matthew McKenzie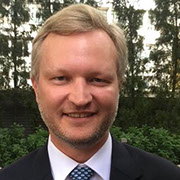 Co-Founder of The Export Group
General Manager Marketing Asia for Bright Foods Asia
Matthew is the General Manager Marketing in Asia for Bright Foods Asia and is also a Co-Founder of The Export Group – a company that has built multiple Australian consumer brands in China. Companies that he has worked with include PZ Cussons, Post Holdings, Weet-Bix, Elders and Slip Silk. Before recently relocating to Southern China, Matthew was based in Shanghai for four years. Prior to living in China, Matthew worked in Australia in senior international roles for Sanitarium Health and Wellbeing, Campbell Arnott's and Dairy Farmers. He has in excess of 20 years of practical experience doing business in China.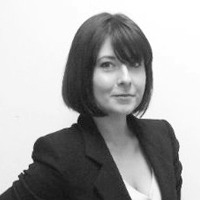 Valeria
 Dezan Shira & Associates 
Assistant Manager 
Valeria joined Dezan Shira & Associates in October 2017, where she works as Assistant Manager in the International Business Advisory team. She is based in Dezan Shira & Associates' Guangzhou office, and works on projects in South China and Hong Kong. Her specialization lies on the protection and enforcement of intellectual property rights in China.
As Manager of the International Business Advisory team for South China and Hong Kong,  she provides daily support to Australian Clients to enter and operate into the Chinese market which are generally smaller listed companies, subsidiaries of listed companies, small to medium sized privately-owned companies as well as expatriate individuals. Many of which are world class and well-known brands, while others are more modest, producing innovative solutions.
Valeria holds a Master Degree in Law with honors from the University of Milan and is enrolled in the Milan Bar Association. Before joining Dezan Shira & Associates, Valeria worked in the Beijing office of an international law firm, where she developed a deep knowledge about Chinese corporate law.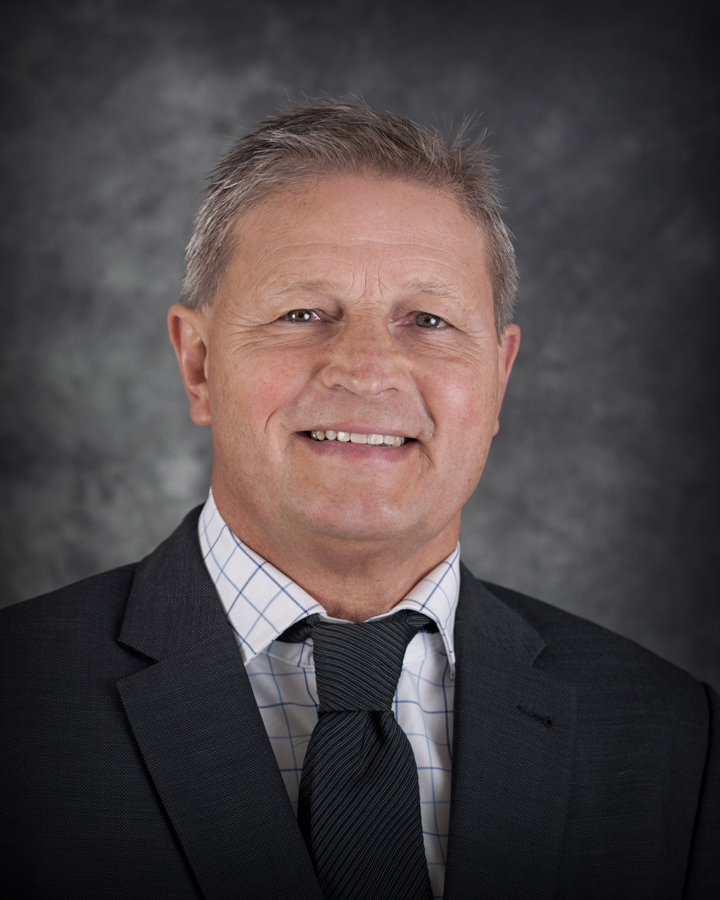 Gary Butner
Head of School at ISA International School 
Gary is currently Head of School at ISA International School Guangzhou, and member of the ISA International Education Group which is developing new schools in China. His previous position was Head of an International School Section affiliated with Tsinghua University in Shenzhen.
Prior to this, Gary worked at an Australian university both as a lecturer and project manager focusing on international projects. Relationships were developed with organisations such as Peking University, Sun Yatsen University, Nanjing Medical School, and the Shanghai Department of Health.
Gary has over 30 years' experience as a teacher and leader in Queensland government and independent schools. He has been a member of state and federal government bodies charged with curriculum development, including ACARA.
Gary'sprofessional interests include leadership and management, policy development,cultural studies, critical and creative thinking, inquiry learning, pastoralcare and wellbeing, and evidence-based school design.
 Moderator & MC
Alexander Paltos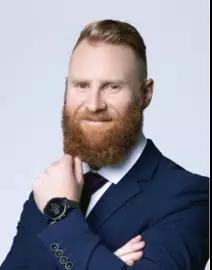 Founding International Principal of Meisha Academy by Haileybury
Board Director of AustCham South China 
Alex has been an educator for almost 20 years. Over half of that time has been spent working outside his native Australia in the UK and the Middle East, including working for international schools or schools that have an 'international footprint'. His current role is as Founding International Principal of Meisha Academy by Haileybury, in Guangzhou. It is a joint venture school between Haileybury Australia – one of the most academically successful private schools in Australia in recent years – and Vanke Real Estate – a construction giant located in the south of China and comprising over 30000 employees. The school  is an inner city Year 9-12 boarding school that will deliver the VCE Curriculum. The school aims to amalgamate the best of Chinese and Western pedagogical practices.
Agenda
| | |
| --- | --- |
| 5:30 – 5:55 pm | Registration 签到 |
| 6:00 –  6:05 pm | Opening remarks 开场致辞 |
| 6:05 – 6:20 pm | Key findings 报告主要结论 |
| 6:20 –  7:00 pm | Panel discussion 座谈小组讨论 |
| 7:00 –  7:20  pm | Opening Question to  Panelists  向嘉宾提问 |
| 7:20 –  8:00  pm | Networking 交流时间 |
Date: Tuesday, 21 May, 2019
Time: 5:30 -8:00 pm
Venue: HiTouch Office
Address: 20F, Main Tower, Guangdong International Building, 339 Huanshidong Rd., Guangzhou, PRC
Price: Member 150 RMB; Non-member 200 RMB; Media Partner Price 170 RMB
RSVP: Scan the QR code on the poster or e-mail to events.southchina@austcham.org
Ticket cancellation and refund will not be acceptable within24 hours before the event, thanks for your understanding.
日期:2019年5月21日星期二
时间:5:30 – 8:00 pm
地点:大旗商服办公室
地址:广州市环市东路339号广东国际大厦主楼20楼大旗商服办公室
价格:会员150元,非会员200元,媒体合作伙伴特别优惠价170元
报名方式:扫描海报上的二维码或发送电子邮件至events.southchina@austcham.org
活动开始前24小时内将无法取消报名或申请退款,感谢您的谅解。