Event | An introduction to GBA and Its New IIT Policies
10-17-19 @ 4:30 pm

-

6:30 pm
AustCham Event
#Introduction to GBA and Its New IIT Policies#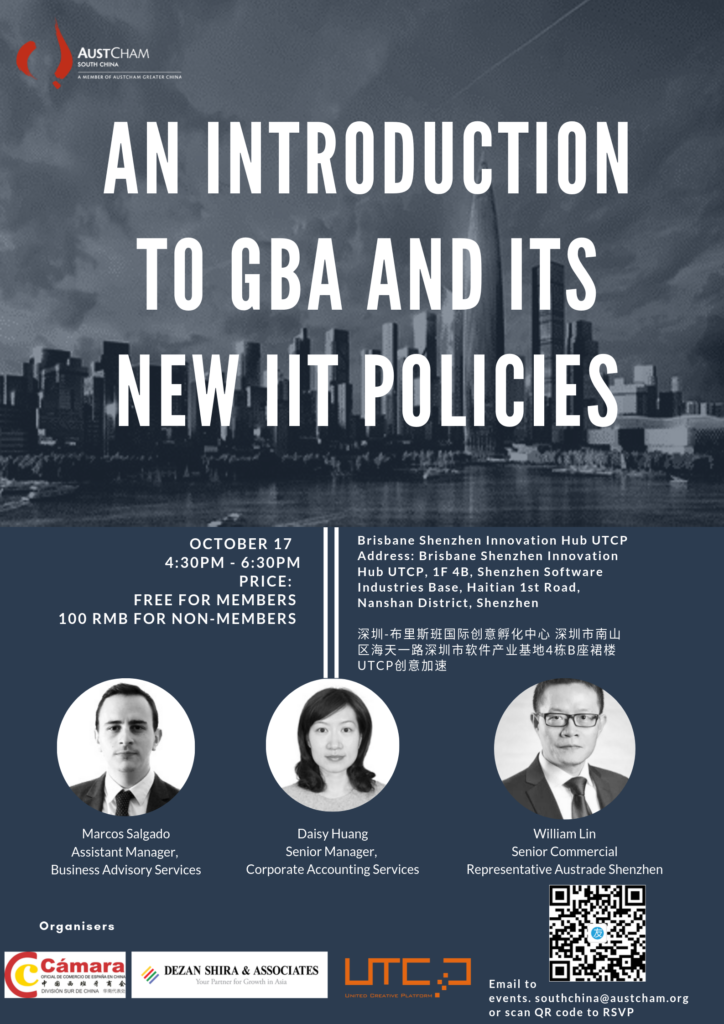 On October 17, AustCham South China in coordination with Dezan Shira and Associates and Spanish Chamber of Commerce South China will be hosting a seminar that will provide an introduction and overview of the Greater Bay Area (GBA) Initiative as well as a summary of the key points of the new Individual Income Tax policies
The GBA represents a national development strategy to economically and socially integrate the nine cities in Guangdong province, as well as the Special Administrative Regions of Hong Kong and Macau, to create a world-class city cluster rivalling the world's leading bay areas in San Francisco, New York and Tokyo
To support the smooth implementation of the GBA plan and attract overseas talent to work in this region, China has rolled out measures to grant subsidies to overseas high-end and critically lacking talent (including Hong Kong, Macau, and Taiwanese residents or "HKMT residents")
On March 14, 2019, China's Ministry of Finance (MOF) and State Administration of Taxation (SAT) jointly released Cai Shui [2019] No.31 (Circular 31). The Circular allows eligible overseas talents to receive government subsidies to offset differences in the individual income tax (IIT) burden between mainland China and other regions. The plan will last for five years and end on December 31, 2023
On June 22, Guangdong province released Yue Cai Sui [2019] No.2 (GD Notice 2), which sets out the main criteria and principles for implementing the preferential IIT policy, including the requirements of applicants and the standard and scope of differential subsidies
In this seminar, the speakers will provide participants with an overview of the GBA initiative as well as a summary of the key points of these two recent Circulars.m
---
This seminar features the following key topics:
An overview of the GBA initiative
Who will be benefit from preferential individual income tax (IIT) policy?
How to calculate and apply for the subsidy?
Under what circumstances can foreigners declare IIT within the parameters of the new policies?
Key take-aways on China IIT filing for foreigners (initial registration, timeline, tax free items, etc.)
Important opportunities and issues businesses may face
How DSA service teams can help
---
Speaker Profiles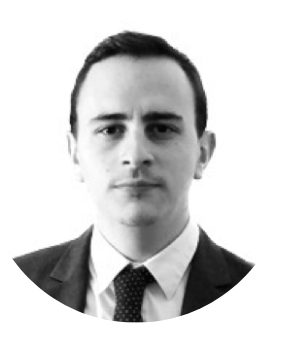 Marcos Salgado
Assistant Manager, Business Advisory Services
Marcos joined Dezan Shira & Associates in July 2019, where he works as Assistant Manager in the International Business Advisory team. He works on multidisciplinary projects across Southern China, Hong Kong and Singapore. His specialization lies on corporate law, international tax planning and foreign direct investment with a focus on the Spanish-speaking markets
---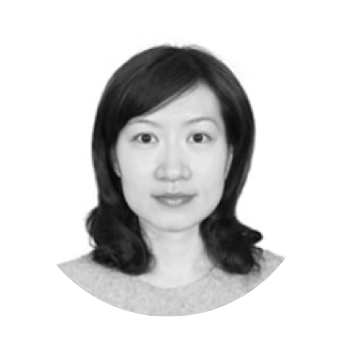 Daisy Huang
Senior Manager, Corporate Accounting Services
Daisy Huang is the head of Audit and Compliance in the corporate accounting services team in South China, located in Dezan Shira & Associates' Guangzhou office. As part of DSA's corporate accounting services team, Daisy is involved in the audits of companies in different business sectors including: manufacturing, retail, financial services, real estate and information technology.
She specializes in corporate structuring, tax planning, internal control improvement and accounting and financing issues relating to foreign invested enterprises, and advises our international clients on tax and internal control matters
---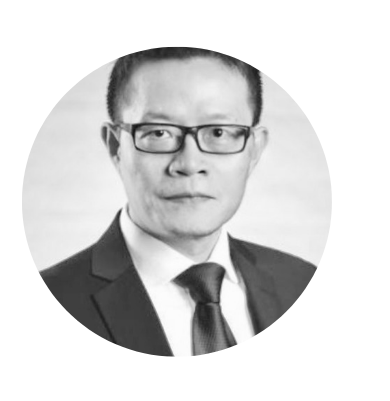 William Lin
Senior Commercial Representative
Austrade Shenzhen
Before taking up the Austrade Senior Commercial Representative (Shenzhen) position, William was the Investment Director at Austrade/Australian Embassy Commercial Section in Beijing, responsible for attracting and facilitating Chinese outbound investments going to Australia
William joined Austrade/Australian Consulate-General (Hong Kong and Macau) in December 1996, he has been fully engaged with Australian export promotion then investment facilitation since; William has also undertaken various Austrade industry team leadership roles at post and North East Asia regional level in the past 15 years. In 2009, William was assigned to investment facilitation role to attract productive Foreign Direct Investments (FDI) from Greater China to Australia
---
Agenda
16:00 – 16:05    Welcome
16:05 – 16:35    Presentation by Marcos Salgado
16:40 – 17:10    Presentation by Daisy Huang
17:15 – 17:45    Presentation by William Lin
17:50 – 18:30    Panel discussion
---
Event Details
Date: Thursday, 17 October
Time: 4:30PM – 6:30PM
Venue: Brisbane Shenzhen Innovation Hub UTCP
Location: Brisbane Shenzhen Innovation Hub UTCP, 1F 4B, Shenzhen Software Industries Base, Haitian 1st Road, Nanshan District, Shenzhen
Price: Free For Members | 100RMB Non-Members
---
RSVP: Please scan the QR code on the poster or e-mail to events.southchina@austcham.orgTicket cancellation and refund will not be accepted within 24 hours before the event. Thank you for your understanding