FRIDAY | How to manage your China operation from HQ?
14 December @ 3:00 pm

-

5:00 pm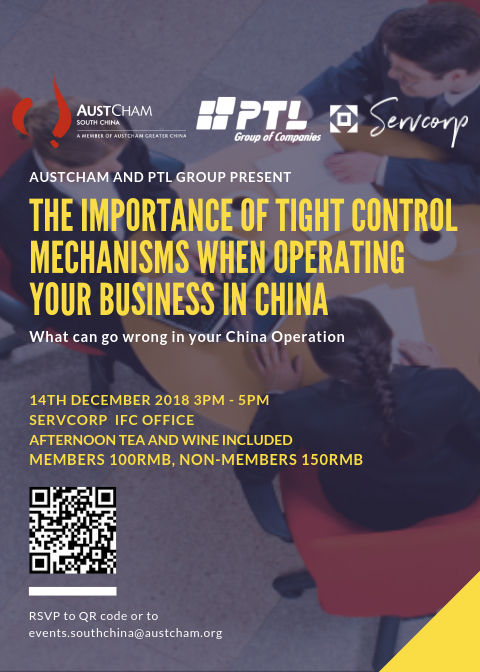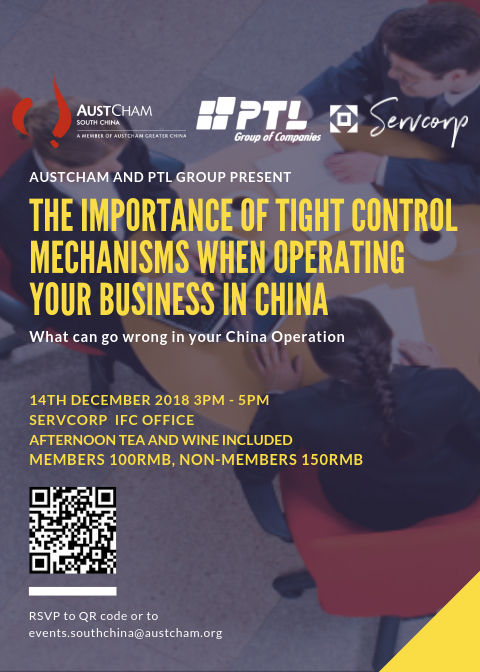 As a foreign company operating in the Chinese market, how do you manage your Chinese entities in China? What risks you may have in terms of hiring, managing and firing the employees? How to set up a healthy reimbursement and bookkeeping process? How to handle labor arbitration from your employees, inspections by government authorities, loss of money or losing good employees or business, these could all be prevented by implementing tight control mechanisms.Join AustCham South China and PTL Group to learn more about how to resolve those problems. PTL Group General Manager, Arie Schreier will talk about the things that can go wrong with your China operations if you do not set up an efficient control mechanism. Arie will also present the methodology of how to set up control mechanism, which has been derived from 13 years of operation management of over 100 foreign companies in China.The new Individual Income Tax law has been partially implemented from October 1st and will come into effect fully from January 1st 2019. What will this impact on local and foreign employees working in China? A discussion on these changes will also be included during the presentation.
Arie Schreier has over 20 years of management experience with companies and diplomatic missions throughout Asia, Australia and South America. He has spent the last 12 years managing logistics, administration, HR, recruiting, finance, and manufacturing operations for foreign companies in China.Arie has been working with a number of international companies to manage their sales, logistics, and manufacturing operations more successfully in a challenging China market. He was also involved in several Operational Audit as well as Turnaround and transformation projects for foreign Owned entities in China.He holds Masters Degrees in Entrepreneurship and Innovation from Swinburne University in Melbourne, Australia, and Public Administration from Tel Aviv University, and a BA in Political Science and International Relations from Tel Aviv University. 
We also have a bonus presentation after the tea break with food and wine: Walk through of how to localize your online Marketing in China—presented by Jun Peng, PTL Group Marketing & BD Director. 
Jun Peng is a genuine Social Media Marketing professional who has been working within Online Marketing for over 10 years both in China and overseas. Since 2016, Jun joined PTL Group as Head of China Marketing and moved to Marketing and BD Director in early 2018. Jun is also serving as Vice Chair of Marketing Committee at AmCham Shanghai.Jun has worked within both B2B and B2C sectors and her specialties lie in Chinese social media marketing, Baidu SEO and SEM/PPC as well as B2B communication. She is also a WeChat Marketing speaker at chamber of commerce and seminars.During the last 5 years in China, Jun has carried out WeChat Marketing projects for industries ranging from Education and Training, Hospitality to Cloud Technology and Automotive industries. Her role at PTL Group is to lead the Marketing team to provide Chinese Social Media Marketing services to international companies that require promotions in the Chinese market. 
15:15—16:30 Main Presentation and Q&A
16:40—17:00 How to localize your online Marketing in China
Date: Friday, 14 December 2018
Time: 3:00pm – 5:00pmVenue: Servcorp
Address: 54th Floor, International Fiancial Center, No.5 Zhujiang Xi Road, Tianhe District, Guangzhou
Price: Member 100RMB /  Non-member 150RMB
RSVP: Limited space, please scan QR code on the poster or mail to events.southchina@austcham.org to secure your seat.
Ticket concellation and refund will not be acceptable within 24 hours before the event, thanks for your understanding.
场地:世服宏图办公室地址:广州市天河区珠江新城国际金融中心54楼
报名:限制人数,请尽快扫描海报二维码或邮件至events.southchina@austcham.org报名
活动开始前24小时内将无法取消报名或申请退款,感谢您的谅解。