Seminar | Environmental Tax Law and Manufactures
12 July @ 6:00 pm

-

8:30 pm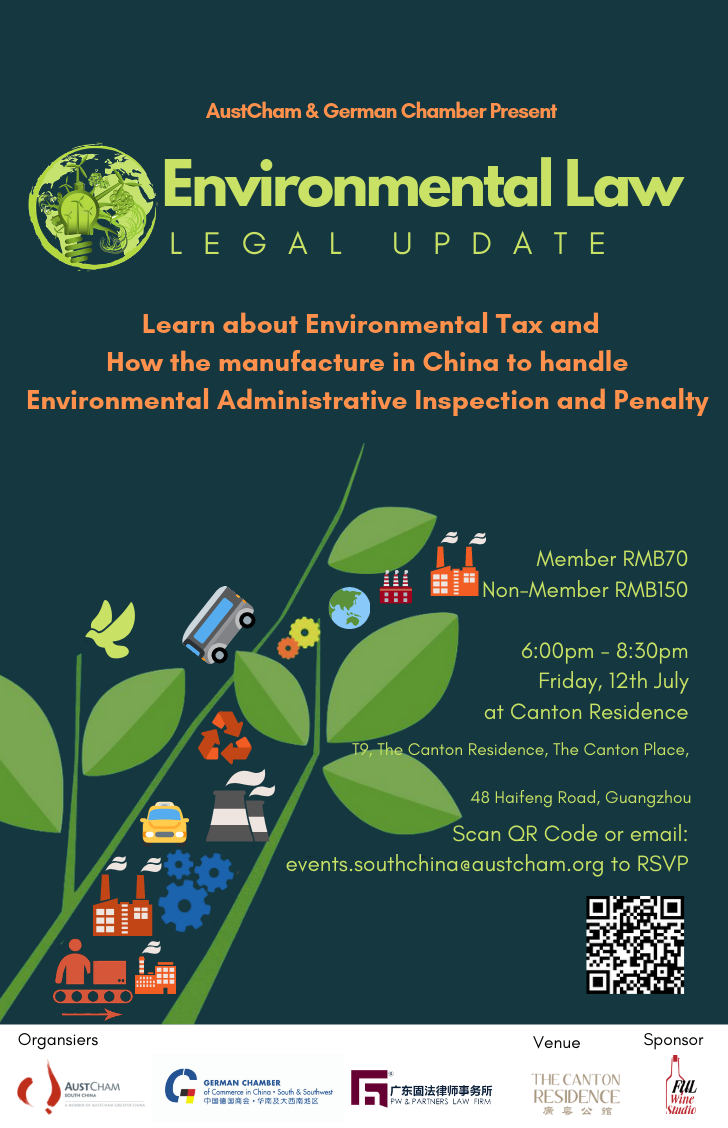 Starting from this April, mainland factories will be taxed for producing noise, air and water pollutants, as well as solid waste, although the levy may vary by geographic locations. In order to incentivize energy efficiency, green investments, and innovations, the State Council, China's top administrative body, allows provinces and municipalities to set their own tax rates based on the region's environmental, economic, and social contexts and to fully allot the tax revenues for environmental protection measures.
By The Collective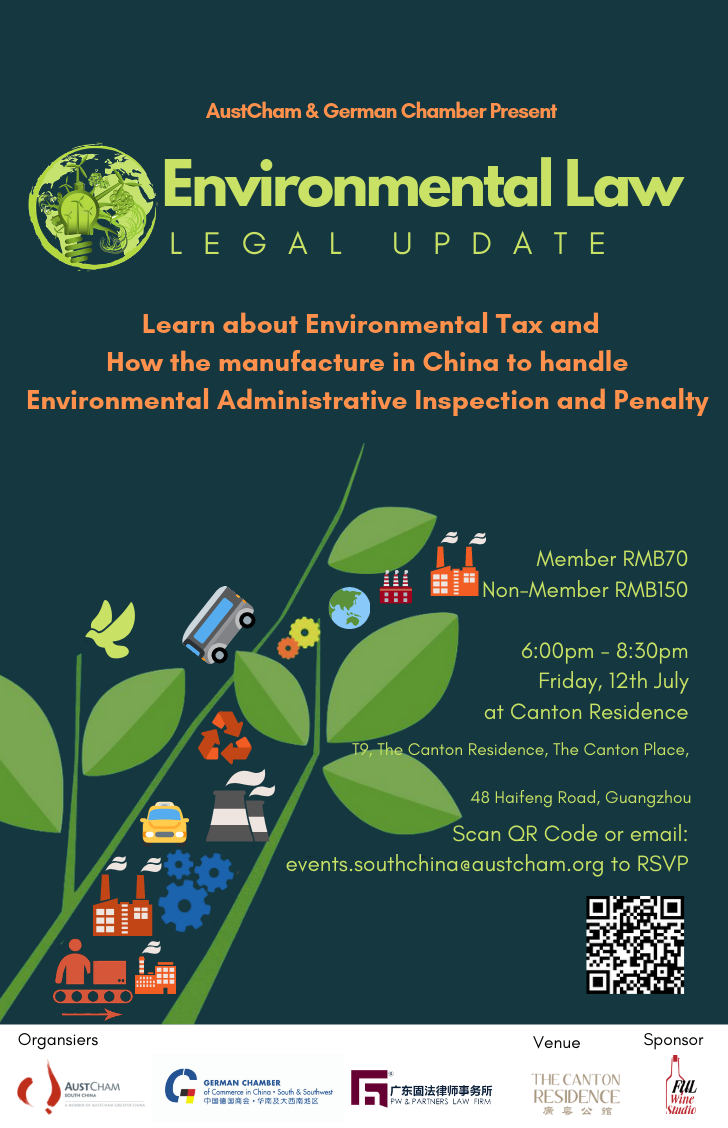 AustCham, German Chamber and PW & Partners Law Firm bring you the latest on Chinese Environmental Law at our Legal Seminar at Canton Place on July 12. The Environmental Law Seminar presents a comprehensive update onEnvironmental Tax Law and how to navigate its conditions in your business interactions in China.
This seminar will not only focus on Environmental Compliance and Environment Law Compliance, but will also reveal how manufactures should handle environmental administrative inspections and avoid penalties.
The Environmental Law Seminar will leave you with a deeper understanding of Chinese environmental law and offer key pointers on how to adjust your business model to ensure that it is operating in harmony with the latest regulations
Speakers information will be released before June 14.
Environmental Law Legal Update Seminar
Date: Friday, 12th July, 2019
Time: 6:00pm to 8:00pm
Venue: The Canton Residence
Address: Meeting room, 2nd floor, Block T9, the Canton Residence, No.48 Haifeng Road, Tianhe, Guangzhou
Early Bird Price: Members 70RMB, Non-Members 150RMB
RSVP: Please scan the QR code on the poster or e-mail to events.southchina@austcham.org
Ticket cancellation and refund will not be accepted within 24 hours before the event, thanks for your understanding.
活动详情
环境保护法讲座
日期:2019年7月12日星期五
时间:下午6:00 – 8:30
场地:广粤公馆
地址:广州市珠江新城海风路48号广粤天地广粤公馆T9号2楼会议室
早鸟价:会员70元,非会员150元
报名方式:扫描海报上的二维码或者发送电子邮件至events.southchina@austcham.org
活动开始前24小时内将无法取消报名或申请退款,感谢您的谅解。