Seminar | Environmental Tax Law and Manufacturers
07-12-19 @ 6:00 pm

-

8:30 pm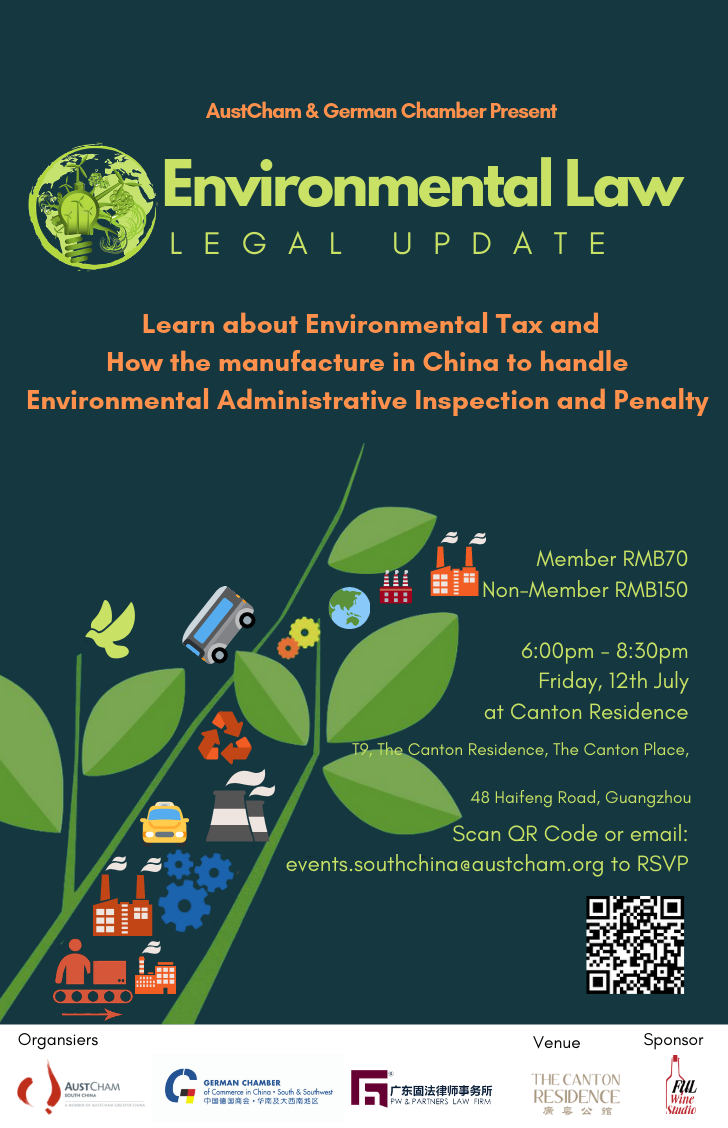 Starting from this April, mainland factories will be taxed for producing noise, air and water pollutants, as well as solid waste; although this levy may vary by geographic locations. In order to incentivise energy efficiency, green investments and innovation the State Council, China's top administrative body, allows provinces and municipalities to set their own tax rates based on the region's environmental, economic, and social contexts. Subsequently, this allows them to fully allot the tax revenues for environmental protection measures.
By The Collective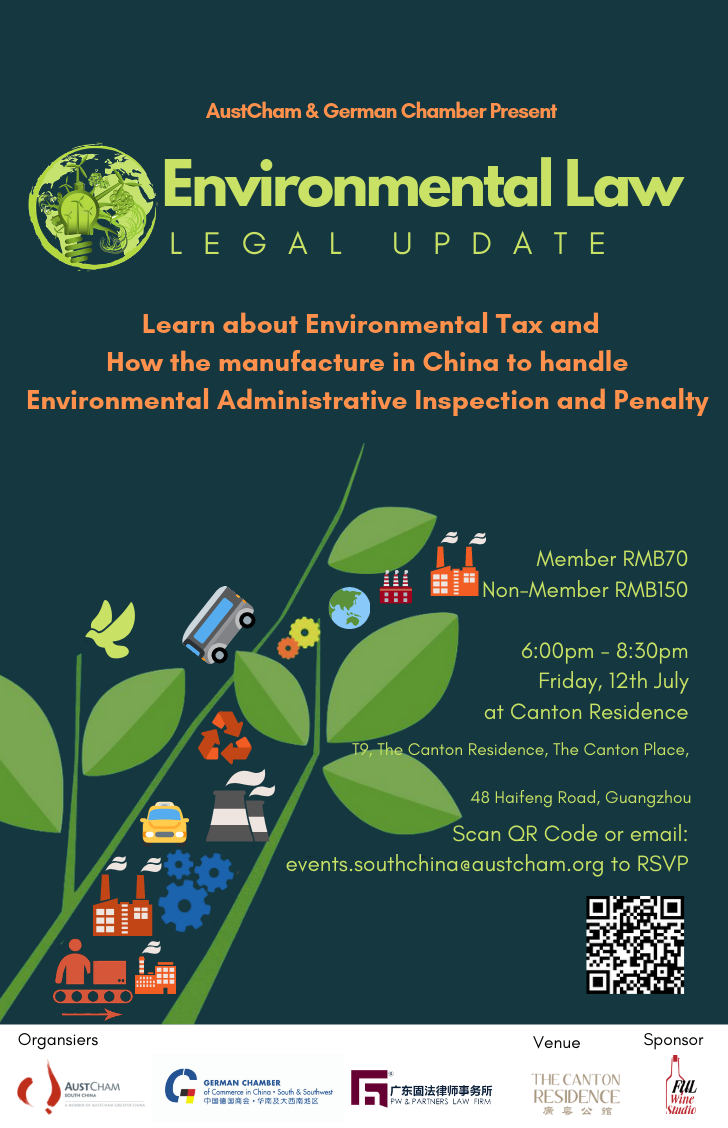 AustCham, German Chamber and PW & Partners Law Firm brings you the latest on Chinese Environmental Law at our Legal Seminar at Canton Place on July 12. The Environmental Law Seminar presents a comprehensive update on Environmental Tax Law and how to navigate its conditions in your business interactions in China.
This seminar will not only focus on Environmental Compliance and Environment Law Compliance, but will also reveal how manufacturers should handle environmental administrative inspections and avoid penalties.
The Environmental Law Seminar will leave you with a deeper understanding of Chinese environmental law and offer key pointers on how to adjust your business model to ensure that it is operating in conjunction with the latest regulations.
Speakers information: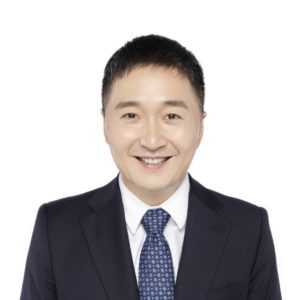 Richard Zhang (Senior Lawyer – PW & Partners Law Firm)
Working languages: Chinese (Mandarin, Cantonese), English
Richard Zhang passed Chinese Bar Exam in 1999 and has practiced since 2007, he has lots of experience in litigation and arbitration. He has represented clients from all over the world in legal affairs and successfully protected their interests. Richard engages in the whole process of litigation and arbitration. He is also successful in the field of criminal defense. He is also very active in environmental protection and is one of the few English speaking environmental lawyers in China. Richard Zhang mainly practices in the fields of contract, criminal, labour, and environmental laws.
James Peng (Executive Partner – PW & Partners Law Firm)
James has over 20 years of experience practicing law with a focus on Environment Law, Labour Law, Company Law, as well as civil and commercial litigations in China. He is rooted in the legal service market of Guangdong&Hong Konggreat bay area. After years of legal practice and theoretical exploration, James has a deep understanding of his clients, especially foreign-funded companies in the current legal environment.He is currently the legal counsel of many government agencies, Chinese state-owned companies and multinational corporations operating in China, including Jabil Circuit, Mars Wrigley, Kraft Heinz, Mead Johnson, Pharmacare, Renolit, LEDLENSER, Suning.com, etc.James is a mediator of the CCPIT/CCOIC Mediation Centre, a member of the Professional Committee of Guangdong & Guangzhou Lawyers Association, and a well-established Arbitrator.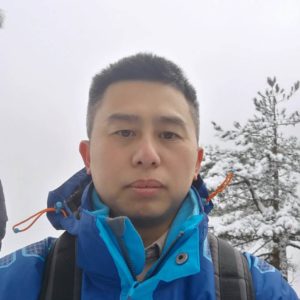 Chen Guo Hui (Founder and CEO – Yuekang Environmental Engineering Co. Ltd)
Mr. Chen established the company in 2010 with just four staff and barely any capital. Now, Yuekang has annual sales of almost 100 million RMB. The company focuses on wastewater treatment.
Bella Liu
(The assistant to the CEO of Asia-Pacific region and the general manager of China office – TWC)
Bella Liu is the young MBA from South China University of Technology and works for TWC as the assistant to the CEO of Asia-Pacific region and the general manager of China office. TWC's business mainly covers the environment protection, surface water and sewage water treatment by using the latest and most advanced bio-stimulation technology. Bella has spent 8 years in international trading business, she can offer you some advice about doing business in China and oversea.
| | | |
| --- | --- | --- |
| | | |
| | | |
| | | |
| | Environmental Law Compliance by Richard Zhang | |
| | Experience Sharing by Mr. Chen Guo Hui | |
| | | |
| | Administrative Inspection & Penalties by James Peng | |
| | Experience Sharing by Bella Liu | |
| | | |
Environmental Law Legal Update Seminar
Date: Friday, 12th July, 2019
Time: 6:00pm to 8:00pm
Venue: The Canton Residence
Address: Meeting room, 2nd floor, Block T9, the Canton Residence, No.48 Haifeng Road, Tianhe, Guangzhou
Early Bird Price: Members 70RMB, Non-Members 150RMB
RSVP: Please scan the QR code on the poster or e-mail to events.southchina@austcham.org
Ticket cancellation and refund will not be accepted within 24 hours before the event, thanks for your understanding.
活动详情
环境保护法讲座
日期:2019年7月12日星期五
时间:下午6:00 – 8:30
场地:广粤公馆
地址:广州市珠江新城海风路48号广粤天地广粤公馆T9号2楼会议室
早鸟价:会员70元,非会员150元
报名方式:扫描海报上的二维码或者发送电子邮件至events.southchina@austcham.org
活动开始前24小时内将无法取消报名或申请退款,感谢您的谅解。