Coming very soon, Dongguan is extremely excited to host HERE! Magazine's 12th Anniversary Pool Party on September 9!
There will be live music, dozens of food and drink vendors, pool toys and games. Don't miss exclusive features like the hammock lounge, giant slip 'n slide, the VR experience, dancing groups and so much more.
Buy your advance tickets now (40 RMB) or at the gate (80 RMB).
Highlights
Tickets
Tickets are only 40 RMB in advance (or 80 RMB at the door) and include one drink.
Register and pay online: Scan the below QR code to register and buy via our event page on the bilingual Yoopay platform. The interface makes it very easy to purchase and pay via WeChat Pay, Alipay and Union Pay.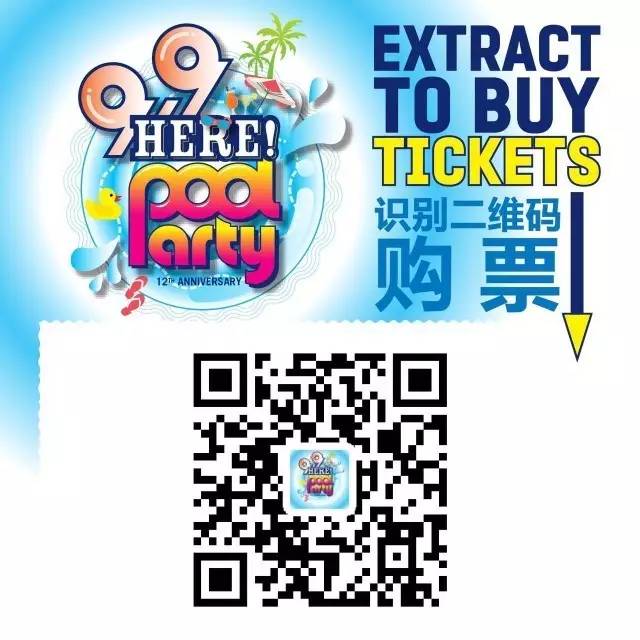 Hotel bookings at discount rates
A great way to enjoy the all-day party is to book a room at the Tangla Dongguan Hotel for that night and have a safe haven (and private toilet!) to go to when you need a quiet few minutes. Also, we'll have an after-party at the hotel's club starting at 10pm, after when the pool party ends. Every booking will include 2 complementary entries to the party (without the free drink).
Special party room rates:
•Garden View Room / 388 RMB (including tax, without breakfast)
•Pool View Room / 488 RMB (including tax, without breakfast)
Next day lunch at BB's Brazilian BBQ on special offer for hotel guests – buy one, get one free.
Information details:
Date: September 9
Time: 12 pm – 10 pm
Address: No.8, Yin Bing Rd, Dongcheng, District, Dongguan