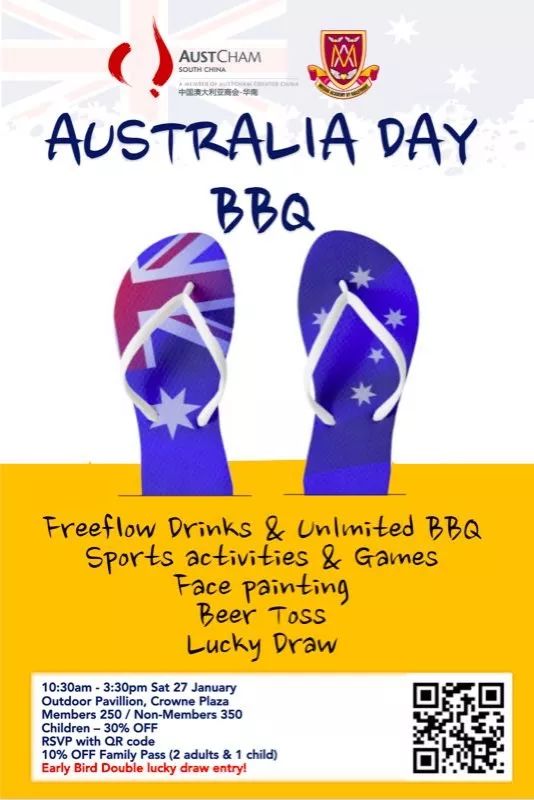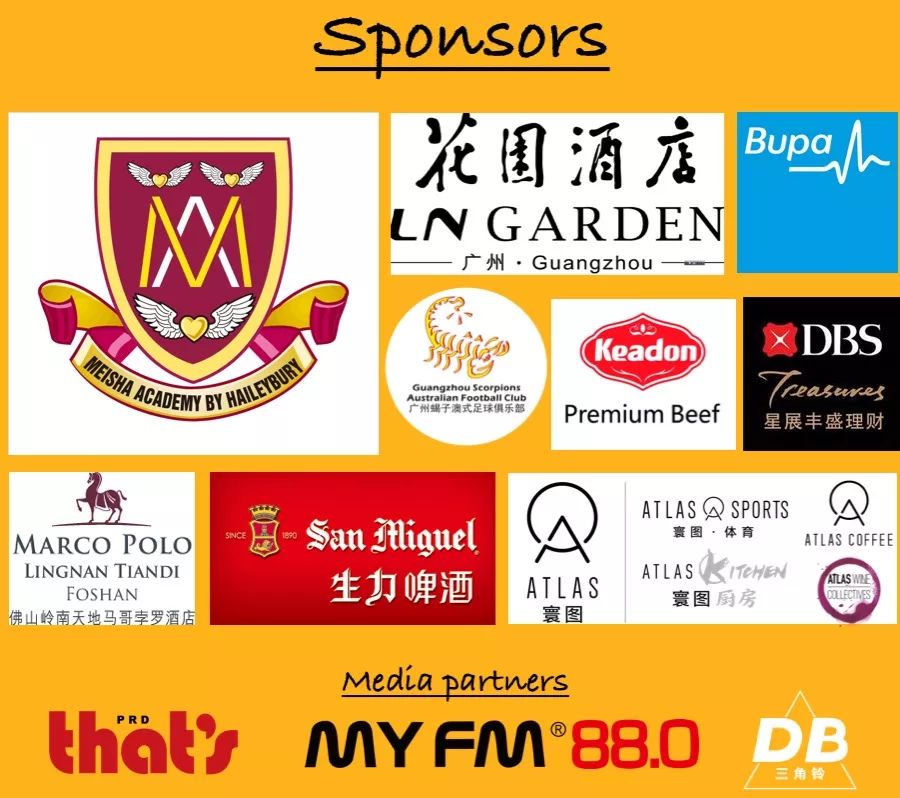 Australia Day is approaching! This year there's no need to get your barbies fired up and your stubbies in the cooler because AustCham has you covered! Join us in celebrating Australia's culture, diversity, history, and future. We've got a fun-filled day ahead, with plenty to occupy the entire family including:
– Free flow Drinks and Unlimited BBQ
– Sports activities and Games
– Face painting
– Beer Toss
– Lucky Draw
Book your tickets now and enjoy the early bird ticket treats! See you there! 
Lucky Draw Prizes
Marco Polo Hotels One Night Hotel Stay at Deluxe Room With Two Breakfast (worth 1048 RMB)

Garden Hotel Buffet Voucher ( worth 300 RMB)

ATLAS GoGreen Golf Vouchers (Adult) voucher (worth 200 RMB)

ATLAS GoGreen Golf Vouchers (Child) voucher (worth 500RMB)

ATLAS Fitness Gym Vouchers (worth 118 RMB)

ATLAS Food & Beverage Coupons ( worth 100 RMB)

DBS Bank New Years' Packages ( worth 300 RMB)
More Prizes coming soon.
Event Details
Date: Saturday 27th January 2018
Time: 10:30 – 15:30
Venue: Crowne Plaza Guangzhou City Centre
Address: Guangdong International Building, No. 339, Huanshi Road East, Guangzhou
Price: Member 250 RMB /  Non-member 350 RMB / Children 30% off
Register now with QR code.
– Early bird tickets get double entry to our Prize Lucky Draw pool
– 10 % off on Family Pass Tickets (2 adults & 1 child)
To register please scan the QR code below 
Connect to WiFi
 if you have problem scanning the QR code

---
澳大利亚国庆日快到了哦,与其在后院的寒风中烧烤,今年不如约上家人和小伙伴们和中国澳大利亚商会一起庆祝吧!和我们一起庆祝澳洲的多元文化,回顾历史,展望未来。我们为你准备了有趣的家庭互动环节和美味的烧烤,包括:
– 饮料畅饮 & 现场烧烤
– 趣味运动 & 互动游戏
– 脸部彩绘
– 啤酒投掷
– 幸运大抽奖
机会不容错过,赶紧订票。现在提早订票可享有额外早鸟福利哦,我们不见不散!
Prize 幸运抽奖
高级套房一晚含两早餐(价值1048RMB)

花园酒店观瀑廊咖啡厅晚餐自助餐券 (价值300RMB)

ATLAS GoGreen(高尔夫成人教学) 尚岭课堂礼券(价值 200RMB)

ATLAS GoGreen (高尔夫小朋友教学)明日之星礼券 (价值500RMB)

寰图健身工房一天体验券(价值118RMB)

ATLAS寰图餐饮现金券(价值100RMB)

星展银行新年礼品(价值200RMB)
奖品持续跟新中
活动详情
日期:1月27号(周六)
时间:10:30 – 15:30
场地:广州中心皇冠假日酒店
地址:广州市越秀区环市东路339号广东国际大厦
价格:会员 250元 | 非会员 350元 | 儿童 七折优惠
请通过下方二维码订票。
– 提前订票可获得两张抽奖券
– 家庭门票(2成人1儿童)可获九折优惠
订票请扫描二维码
如果无法打开二维码
请切换到WiFi环境

---