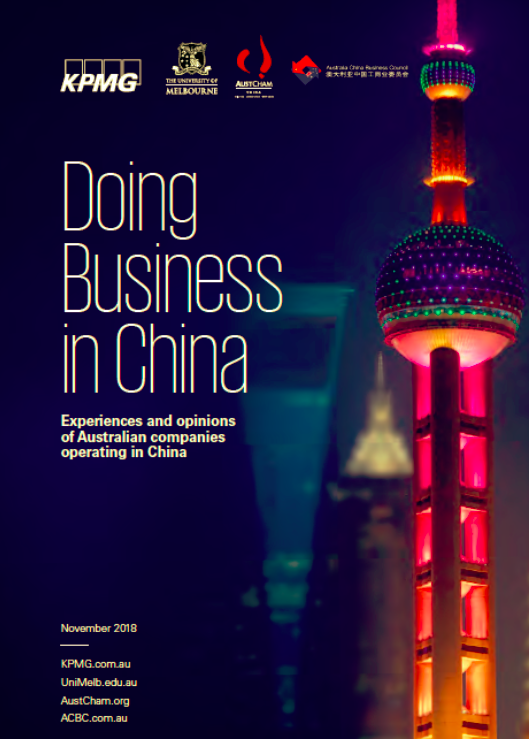 About the Report
The 2018 Doing Business in China report follows the survey of members of the China-Australia Chamber of Commerce (AustCham) and the Australian China Business Council (ACBC) and was conducted in Q3 2018. The respondents comprised Australian businesses operating in or doing business with China and responses were received from 165 companies across a range of sectors.
The report is a joint research initiative of AustCham China, Australia China Business Council, KPMG and the University of Melbourne. It was launched at the China International Import Expo (CIIE) in Shanghai on November 6th with the support of the Senator the Hon Simon Birmingham, Minister for Trade, Tourism and Investment and H.E. Jan Adams AO PSM, Ambassador to the PRC.
Responses were received from 165 companies. The survey respondents were predominantly (senior) executive-level leaders who provide strategic leadership in managing their companies' China business interests.
Post Event Update | Doing Business in China Report Launch
Report Purpose:
The Doing Business in China Report is a critical tool for the chamber as it helps Australian businesses understand the opportunities and challenges facing companies in China. This report highlights the present and expected future benefits of the still young China-Australia Free Trade Agreement with Australian businesses indicating real optimism about its impact. While the generally agreed upon difficulty-of-doing-business remains the Achilles' heel for many an Australian trade venture in China, this survey can help reflect and uncover some of the frustrations and obstacles facing Australian businesses in China.
Key findings of the research include:
As well as two‑thirds of companies continuing to increase their investments in China, 60% are expecting to increase their headcounts in the near term
Profitability remains strong as does the outlook for the next two years with less than 20% of respondents having a negative outlook
Key growth opportunities identified were the rise of the middle class, sustained economic growth and the Belt and Road Initiative.
Just under half of respondents have seen an increase in attention or engagement by Chinese authorities, as China remains a challenging place for 72% of respondents to conduct their business
83% of respondents flagged human resources a top cost concern when doing business in or with China.
Tensions in Sino-Australian relations emerged as the largest risk going forward, with 75% believing media reporting had an adverse effect on relations and over 50% indicating their business had been negatively affected. 28% said that the US/China trade sanctions have negatively impacted their business with only 12% saying it has had a positive impact.
66% of businesses believe that the China Australia Free Trade Agreement (ChAFTA) has had a positive impact on Australian businesses in China.
Full Media Coverage List
Click below to download the full report:
Download: Doing Business in China – November 2018
See all Doing Business in China reports below: