AustCham South China is proud to announce our new Corporate Member, Singapore Airlines. Connecting three main centres in China with seven Australian cities, experience a journey unlike any other on some of the most comfortable and spacious aircraft in the world. Enjoying impeccable service, you can explore the globe with Singapore Airlines.
We are excited to extend a series of exclusive offers to AustCham's members over the coming months – so keep an eye on our WeChat and website as we reveal more information over the coming days!
AustCham members will be able to access Singapore Airlines promotions, as well as special fares for flight bookings departing ex-China on any routes operated by Singapore Airlines and SilkAir through a special corporate program. In addition, bookings made via this program will enjoy an additional 10kg excess baggage.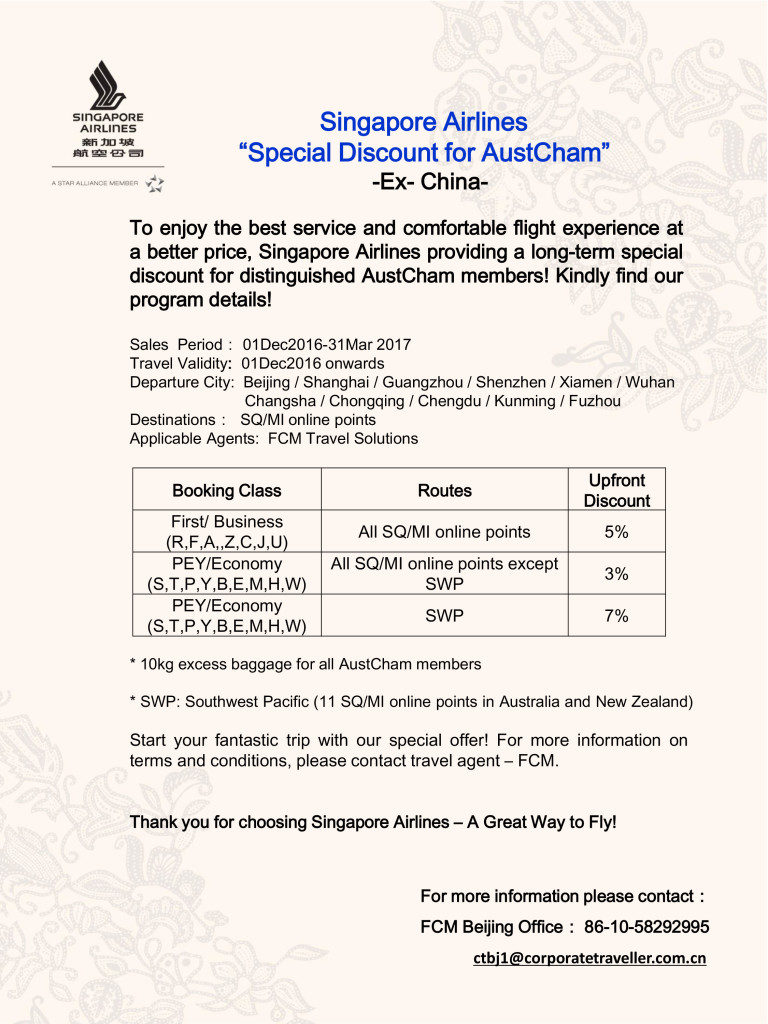 ---
To book or get more information, please contact Singapore Airlines on:
Dir. Line : 86 10 5829 2995
Mail : ctbj1@corporatetraveller.com.cn
Dedicated Travel Consultant : 专职差旅顾问 : Vivian Fan 樊珊珊
Dedicated Travel Consultant : 专职差旅顾问 : Maggie Wang 王柠薇
Office Hours : 工作时间周一至周五 : Mon. – Fri.: 08:00 -20:00
After Hours 其他非工作时间电话 : 20:00-08:00 Monday-Friday, 24hrs for weekends & Public holidays.
The call will be transferred to 24hr emergency service team automatic call. 自动跳转到24小时紧急服务团队
Office Address : 公司地址 : 4/F First Shanghai Centre, No.39 Liangmaqiao Road, Chao Yang Dist. Beijing P.R. China 100125 北京市朝阳区亮马桥路39号第一上海中心A座四层
Our people, your guarantee!