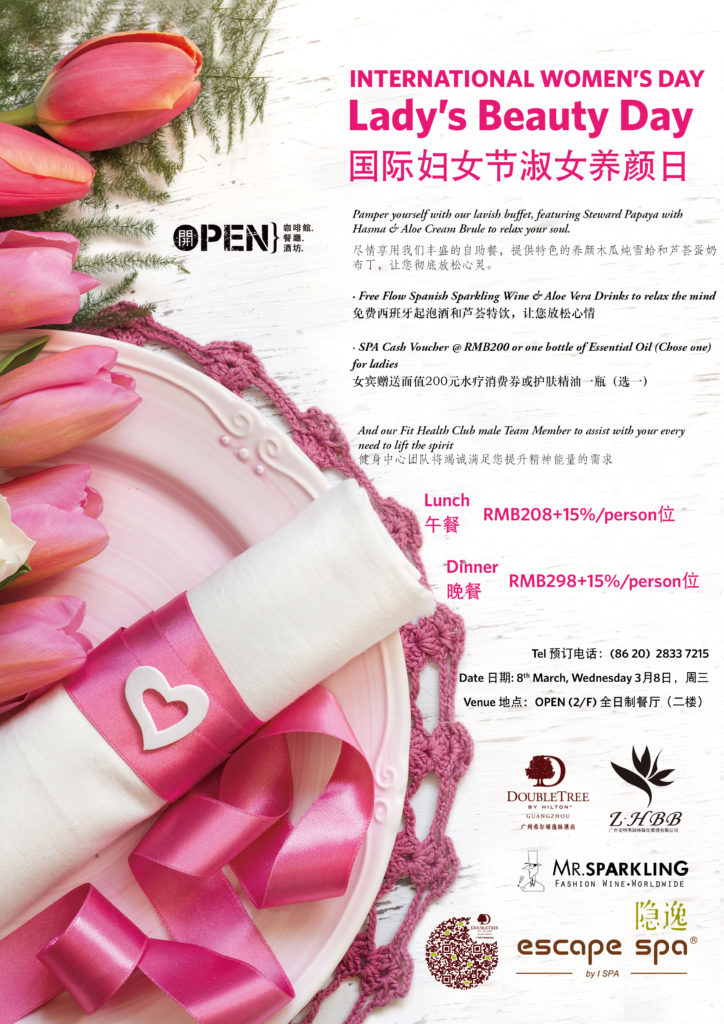 International Women's Day – Lady's Beauty Day
Pamper yourself with our lavish buffet, featuring Steward Papaya with Hasma & Aloe Cream Brule to relax your soul.
Fashionable & Healthy Menu for ladies Pawpaw Chinese Yam Yogurt Salad, Stewed Chicken with Rea Dates and Angelica, Lotus Nut Black Rice Congee, Aloe Jelly, Iced Aloe with Yogurt Sauce, Aloe Cream Brule, Steamed Egg White with Aloe and Lily
Free Flow Spanish Sparkling Wine & Aloe Vera Drinks to relax the mind
SPA Cash Voucher @ RMB200 or one bottle of Essential Oil (Chose one) for ladies
And our Fit Health Club male Team Member to assist with your every need to lift the spirit
Price :Lunch  RMB 208+15%/person位
Dinner  RMB 298+15%/person位
Tel:(86 20)  2833 7215
Date : 8th March, Wednesday 3月8日,周三
Venue :OPEN (2/F) 全日制餐厅(二楼)
---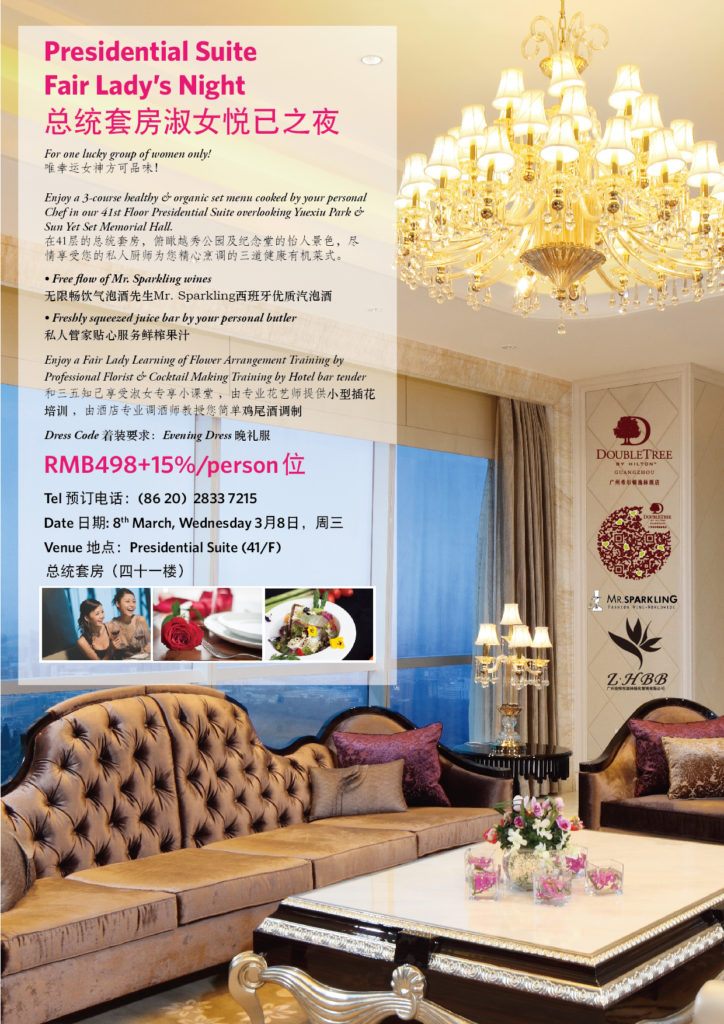 Presidential Suite Fair Lady's Night
For one lucky group of women only!
Enjoy a 3-course healthy & organic set menu cooked by your personal Chef in our 41st Floor Presidential Suite overlooking Yuexiu Park & Sun Yet Set Memorial Hall.
Free flow of Mr. Sparkling wines
Freshly squeezed juice bar by your personal butler
Healthy Menu
Salad
Asparagus, Aloe, Cherry Tomato, Little Carrot with Vinaigrette
Soup
Organic Carrot and Sweet Potato Soup with  Pumpkin Seed Bread Slice
Main Dish
Atlantic Fried Grouper with Italian Wild Rice and Vanilla Sauce
Enjoy a Fair Lady Learning of Flower Arrangement Training by Professional Florist & Cocktail Making Training by Hotel bar tender
Dress Code :Evening Dress
Price :RMB498+15%/person
Tel:(86 20)  2833 7215
Date : 8th March, Wednesday
Venue :Presidential Suite (41/F)