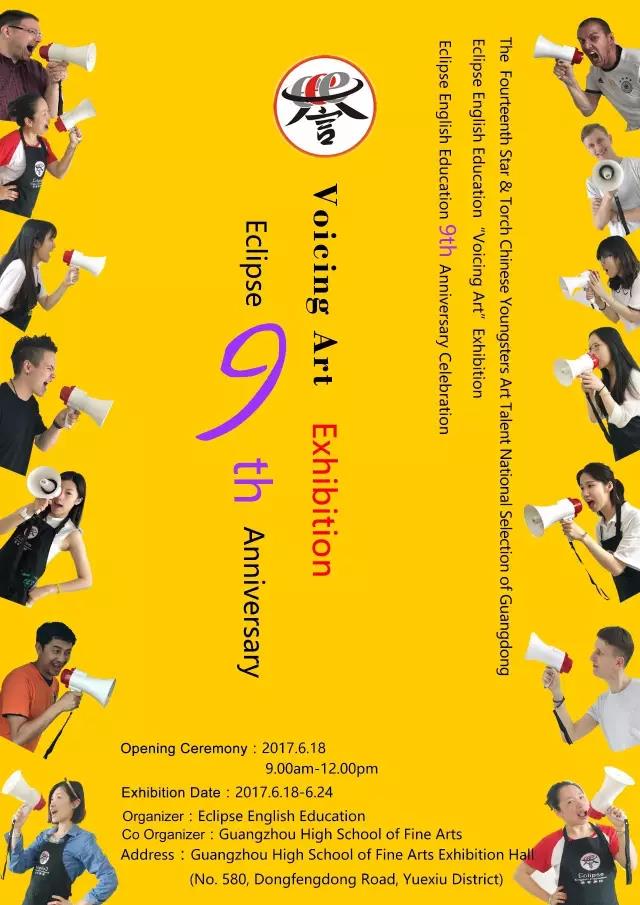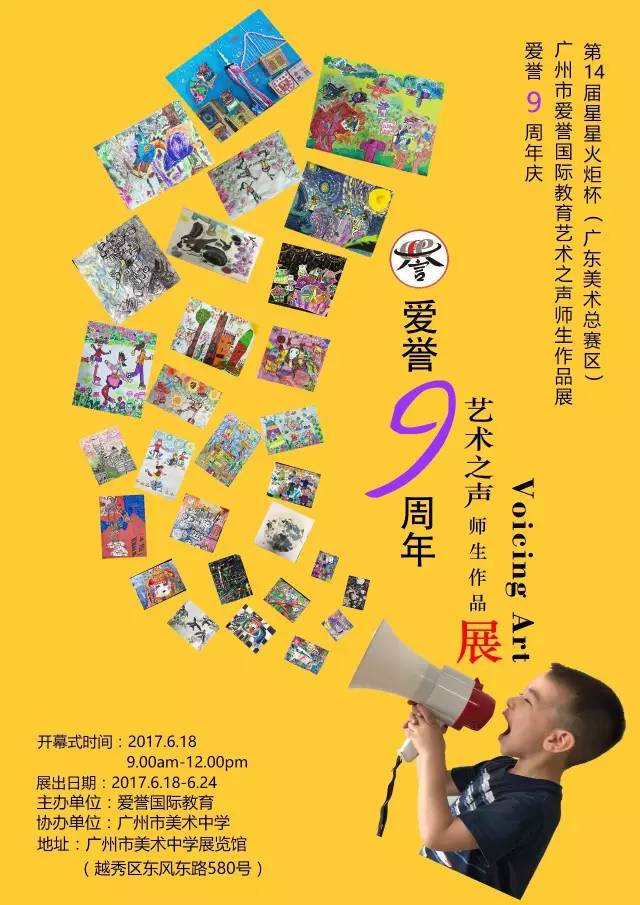 Eclipse English Education was established in 2008, as a pioneering centre for tutoring all aspects of English as a core subject, advanced multilingual art instruction, and training in additional second languages.
Eclipse's mission is to incorporate, elevate, and excel students' understanding, appreciation, and ability in language and art as the essential media and communication tools they hold true to be.
Orchestrated in tandem with the Guangzhou High School of Fine Arts, Eclipse English is honoured to celebrate its 9th anniversary by bringing to life the 'Voicing Art' exhibition on June 18, 2017, from 9 a.m., as the premier showcase for wonderfully rich and talented students' artwork, proudly donated to raise funds for children with mental and physical disabilities.
All attending children will receive a free gift, as well as, those who come on time and post the 'moments' on their WeChat account. Quite simply, 'Voicing Art' is on opportunity to see fantastic art, be part of a great charitable event, and have FUN with the Eclipse's foreign teaching team!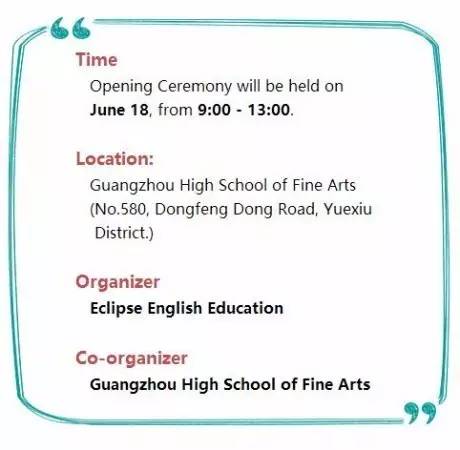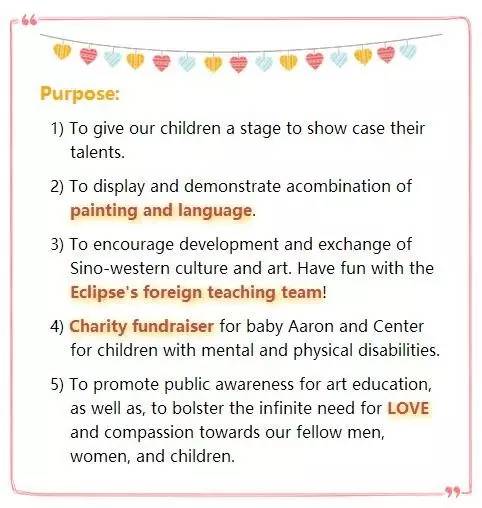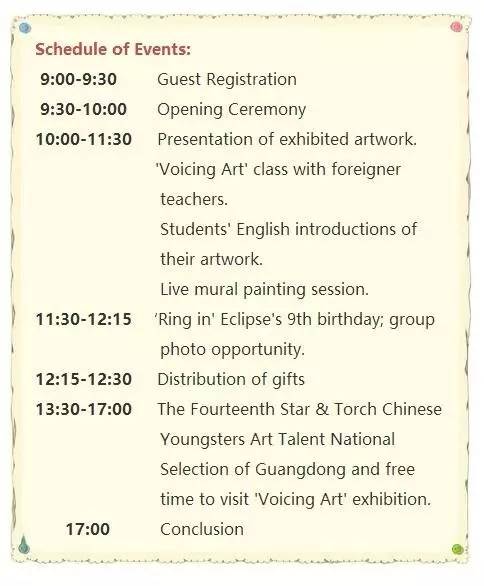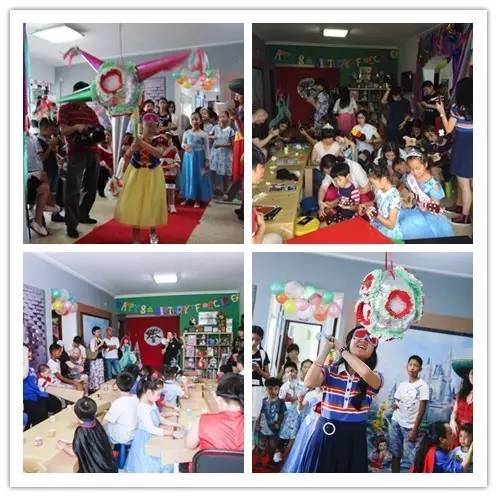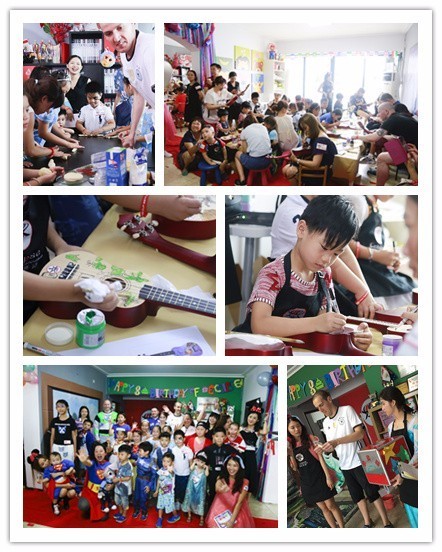 About   "Little Angel Rehabilitation & Training Center in Guangzhou"
This rehabilitation and training center is the Liwan District Civil Affairs Bureau of Guangzhou approved establishment of the people for nonprofit institutions for Guangzhou's autistic children, mentally disabled children, and cerebral palsy children. Eclipse believes that 'Voicing Art', will present these special children's voices to the public as the pure individuals they are.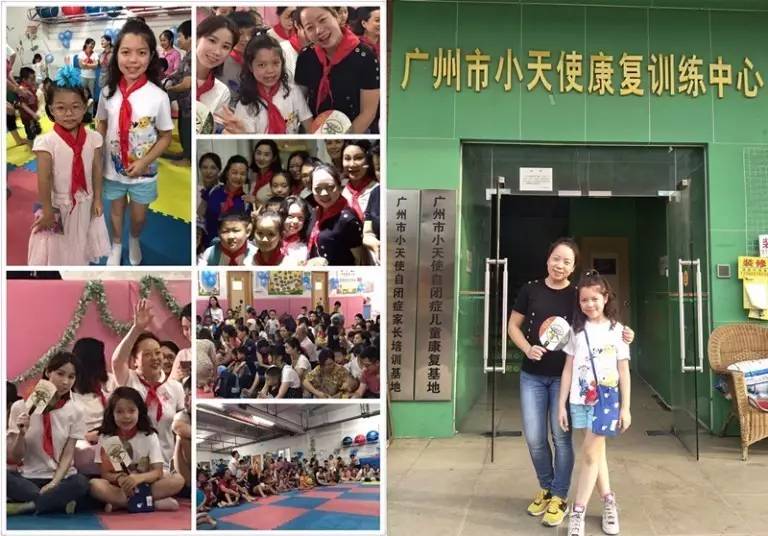 About   "Baby Aaron"
Aaron was born on February 16, 2016, and hisspinal cord was injured when the doctor tried to reposition him while still in his mother's womb. He was unable to move or breathe on his own and had to be incubated right way. His family discovered a procedure to help Aaron breathe on his own and live a more 'normal' life, but the costs were greater than his family could afford.
Refusing to surrender, a major fundraiser was orchestrated to provide Aaron's family with the money needed to complete his procedure.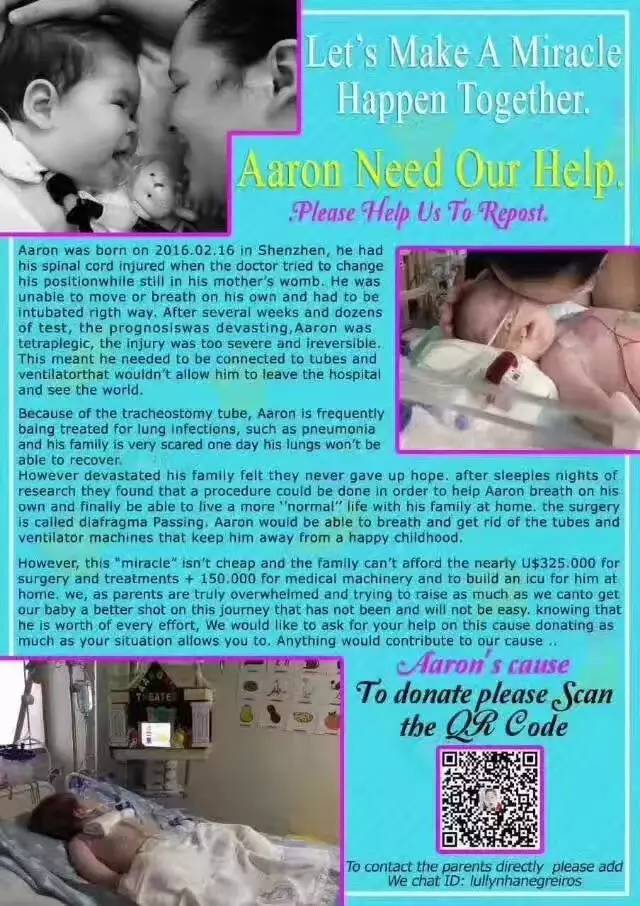 About   "Eclipse"
Established in 2008, Eclipse Education English is headquartered in Guangzhou, China and Toronto, Canada. Founded by Canadian teacher, Ryan Benson, and Chinese primary school director, Angel Benson, Eclipse partners with Canadian headmaster and McGill graduate, Gerry Benson, who has taught as a professor at McMaster University for over 40 years, as well as, vice-principal, Marge Burns, a North Bay Teachers College graduate and a celebrated teacher of Toronto schools for more than 30 years. Bai Ru Ng is the Headmaster for Eclipse English Education's Arts program. He is one of the top six Chinese artists who are famous for portrayals and portraits of human subjects in painting. Eclipse's focus is on creating high-quality professional IB courses and creative arts education, and English literature courses for advanced aptitude and placement tests. Insistingon authentic materials, each class boasts a pure English-immersion environmentof no more than 6 students per class, taught 100% by foreign teachers.
In 2016, Eclipse was named the 'The Educational Model Organization of National Children's Fine Arts' by the China Art Education Association.
Leading an elite team of professional teachers, we proudly strive to accomplish our mission of combining the most effective elements of western and eastern teaching styles and curriculums in promoting a positive academic career.

Community and Corporate Supporters:
Guangzhou High School of Fine Arts
Star & Torch Organization of Guangdong
The Australian Chamber of Commerce – South China
that's PRD (Guangzhou)
Whenever(Guangdong)
The Foreign Division of Colombian Consulate
Little Angel Rehabilitation & Training Center in Guangzhou

A guiding light,
Your education mentor towards