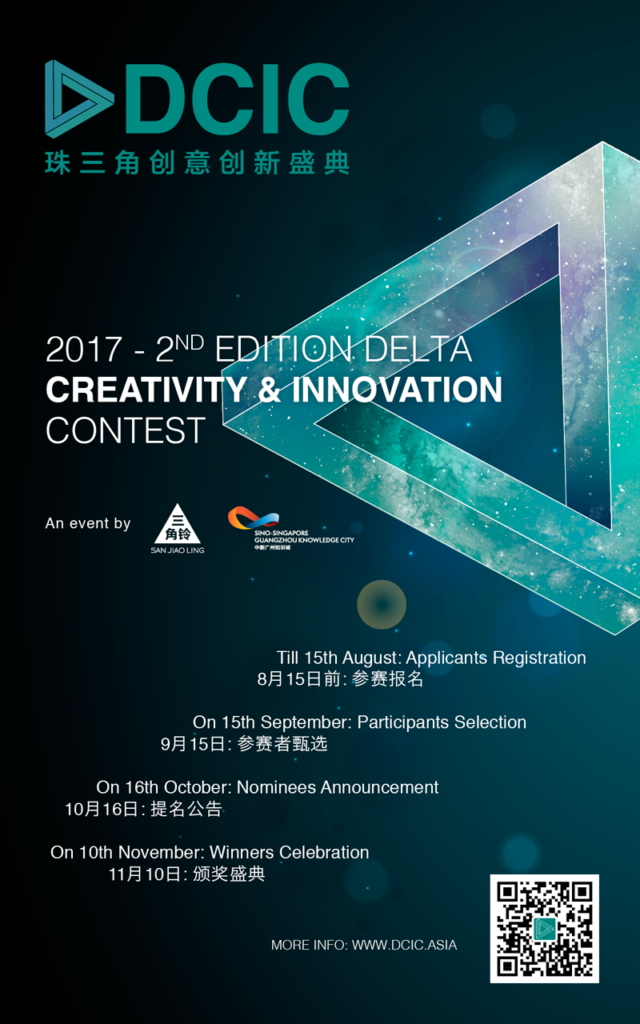 2017 DCIC Introduction  
---
"Seeking innovation is to seek the future" – Chairman Xi
DCIC is an award contest
▲ Let's reward the companies that excel at creativity and innovation
DCIC takes place in the PRD
▲ Let's showcase the new face of this region to the rest of the world
DCIC is an international event
▲ Innovation requires a wide vision
DCIC is a business ecosystem
▲ And you know you are part of it!
2017 DCIC Rundown
---
Till 8th September: Applicants Registration
Companies apply under one of the 8 different award categories:
▲ Architecture & Urban Development
▲ Creative Industries
▲ Incubators & Accelerators
▲ Information Technology
▲ Medical & Biotechnology
▲ New Energy & Clean Technology
▲ Smart Technology & Advanced Manufacturing
▲ Tourism & Entertainment
On 15th September: Participants Selection
At the Deliberation / Press Conference, the Organising Committee selects up to 30 participants for each of the 8 award categories.
On 16th October: Nominees Announcement
Following the Jury Boards evaluation, for each of the 8 award categories, the top 5 companies are invited to join the award ceremony, without being told their rank.
On 10th November: Winners Celebration
There are 8 Jury awards, 1 for each of the 8 award categories. There are also 8 cross-category Public awards. The 16 awards are presented on Friday 10th November at the Award Ceremony Gala Dinner (exact venue to be confirmed)
2017 DCIC Contest  Participants

---
If you wish to take part in the 2017 DCIC, please note:
▲ Your startup / company needs to be based in the Pearl River Delta
▲ International companies wishing to invest in the Pearl River Delta can also apply
▲ There are no application fee, no hidden fee, the whole contest is totally free of charge
▲ You have until the 8th September to fill in your application form
2017 DCIC Sponsorship Opportunities
---
Supporting Sponsorships
You wish to gain visibility and promote your services to the numerous businesses and decision makers that are involved with DCIC.
Angel Sponsorships
Your company revolves around creativity and innovation and you wish to hold a central place in DCIC. One of your top executives joins our Organising Committee.
Patron Sponsorships
You are a regional leader in one of the 8 DCIC award categories. You wish to expose this leadership and create a network with entities with a similar business scope. Your CEO joins one of our Jury Boards.
Title Sponsorship
In addition to all benefits listed and the event title itself, you wish to have a DCIC related tailored-made marketing campaign.