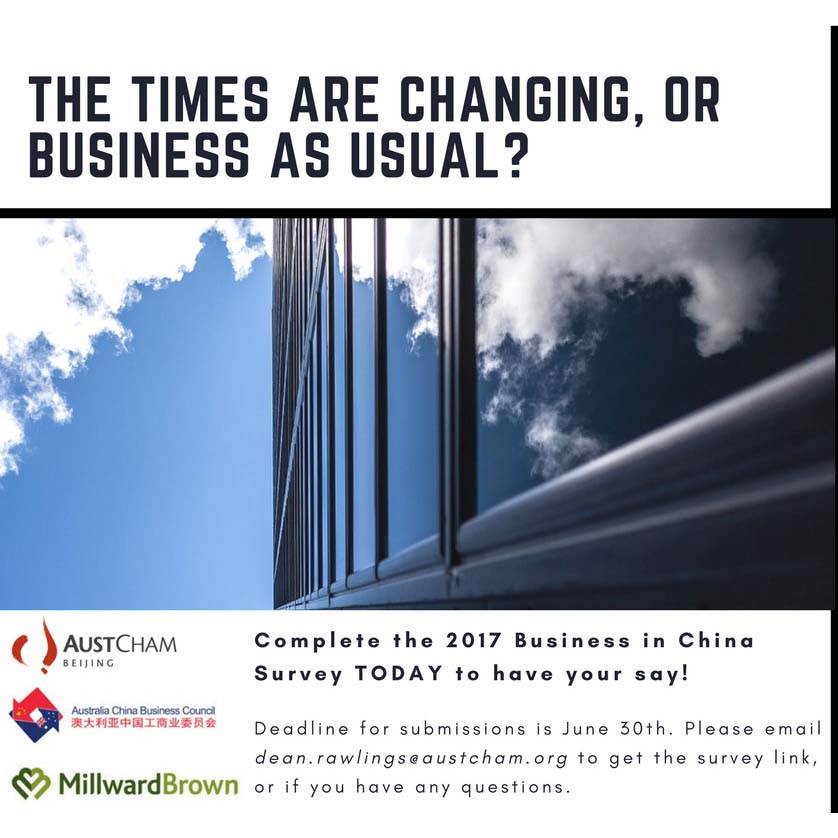 On behalf of the China-Australia Chamber of Commerce, encompassing AustCham's Beijing, South China, West China and Bohai Chambers, we are excited to invite members to participate in the 2017 China Business Survey. The survey provides an opportunity for the Australia-China business community to contribute to AustCham's greater China advocacy which will ultimately be used as a reference to inform future development in the area of Australia-China trade and investment.
Survey responses deadline is June 30th 2017 – so fill it out today to have your voice heard! The results of the survey will be presented to AustCham members, and associated Australian and Chinese government officials. AustCham will also draw from the findings to feed into the events of our Industry Forums and advocacy activities for 2017.
We have partnered with Millward Brown and the Australia-China Business Council in Victoria to develop the survey. All responses will be kept anonymous, with all data to be analysed in aggregate only. To obtain a survey link please email asha.forsyth@austcham-southchina.org (if you haven't received the link already) – the survey can be completed online and shouldn't take more than 15 minutes of your time!