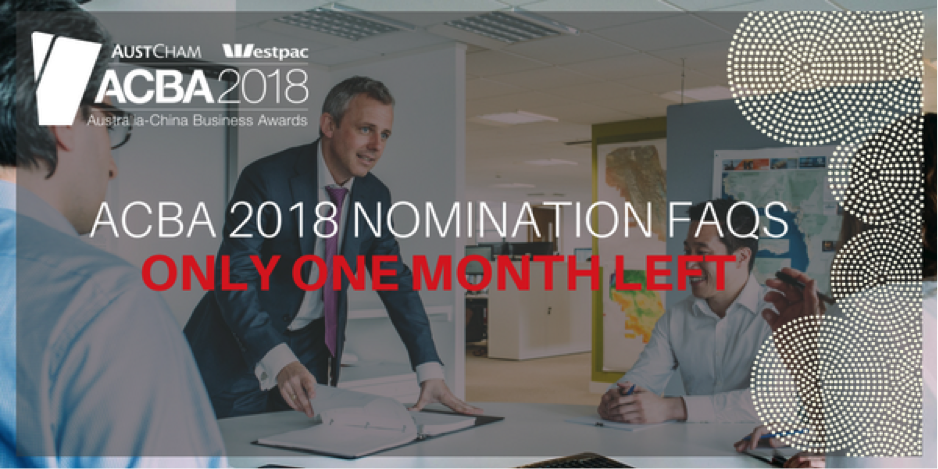 Nominate Today!
Start 2018 off on the right foot by nominating your business for The AustCham Westpac Australia-China Business Awards (ACBAs) 2018. There is only one month left before nominations close – don't wait!
Drawing nominations from companies operating across a range of industries, the ACBAs program is a high-profile celebration of success amongst small and big business across Greater China and Australia.
ACBA 2018 Nomination FAQs
1. What questions will I need to answer?
To nominate your company for the 2018 ACBAs, simply:
Describe your company's business activities, products or services and geographic areas of activity
Select the relevant business excellence award categories for entry
Indicate your company's major recent achievements (ie the reasons your company should win)
Complete your contact details and click submit. Congratulations: you have taken the first steps to be in the running for an ACBA.
2. How do I choose which ACBA category to enter?
The ACBA categories page outlines the eight categories for 2018. We have ensured a breadth of categories to provide all businesses with an opportunity to demonstrate their excellence. You can actually enter up to three ACBA categories and are encouraged to do so. Entering more than one ACBA category will only increase your chances of winning an award.
3. What are the criteria the judges are looking for?
At all stages in the process, the judges for the ACBAs are looking for businesses that demonstrate excellence and distinctiveness within their sector and the category for which they are applying.
4. Is my business eligible to nominate for the 2018 ACBAs?
Detailed eligibility criteria can be found in this website: https://www.austcham-acba.com/2018-eligibility-criteria.
5. Who can fill in the nomination form?
The ACBA entry form can be completed by any person working within the business. This does not need to be the same person who will attend the interview with the judges, should a business reach this stage of the ACBAs.
6. What is the process to nominate?
Nominating your business for the 2018 ACBAs is free! You can nominate in up to three categories, across a broad spectrum of industries. The initial online nomination takes approximately 10 minutes to complete.
To start your application, please register an account on the ACBA website.
Once you have registered an account, you can complete the initial nomination form.
Click Here to View the ACBA Website to Nominate!
PRINCIPAL SPONSOR

Westpac has been the official key sponsor of the ACBAs since 2009. Westpac has operated in Asia for over 40 years and was the first Australian bank into China. In addition to its Asian regional headquarters in Singapore, Westpac has branches in Hong Kong, Beijing, Shanghai, a sub-branch in the Shanghai Free Trade Zone, a branch in Mumbai and a representative office in Jakarta. Westpac's goal in China is to both support Australian and New Zealand customers in the region, as well as provide a gateway for Chinese firms and individuals with interests in Australia and New Zealand.
Visit: www.westpac.hk or www.westpacbank.com.cn

This year the ACBAs will be hosted by AustCham Shanghai, with the winners announced at the Awards Gala Dinner to be held in Shanghai.
Visit the awards website at: www.austcham-acba.com for more information or contact AustCham Shanghai's Senior Partnerships and Projects Manager Stephanie Smith.
---