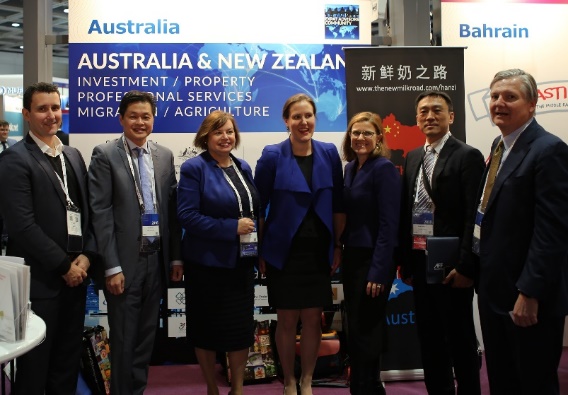 2018 Delegates at the Australia expo stand with Kelly O'Dwyer and Michaela Browning
Aussies in Shenzhen and Guangzhou who are planning to go to the Asian Financial Forum (AFF) and have cross-business opportunities with Australia or are expats considering their future return, are invited to join the Australian Business and Financial Services delegation from 13th to 18th January, 2019.
Networking and building relationships are key to doing business in the region. The delegation will consist of professionals, financial services, businesses seeking strategic partners or investors, those looking at import/export opportunities as well as entrepreneurs and start-ups.
The program starts on Sunday evening with a welcome dinner at the Hong Kong Club. Following the AFF there will be a day trip to Shenzhen, then participation in the Asia Family Office Conference. Networking opportunities include the Pacific Economic Council Dinner and drinks with New Zealand Chamber of Commerce.
To find out more, come along to the mission briefing with Stacey Martin:
Date:        Monday 3rd December 2018
Time:       3:00 pm – 4:30 pm 
Venue:     HKTDC SME Centre, Ground Level, Hong Kong Convention and Exhibition Centre
Address: 1 Expo Drive, Wan Chai, Hong Kong
Register: at the link here.     
For more information go to the delegation website: http://expatadvisorscommunity.com.au/go/aff2019/ or complete the booking form here.