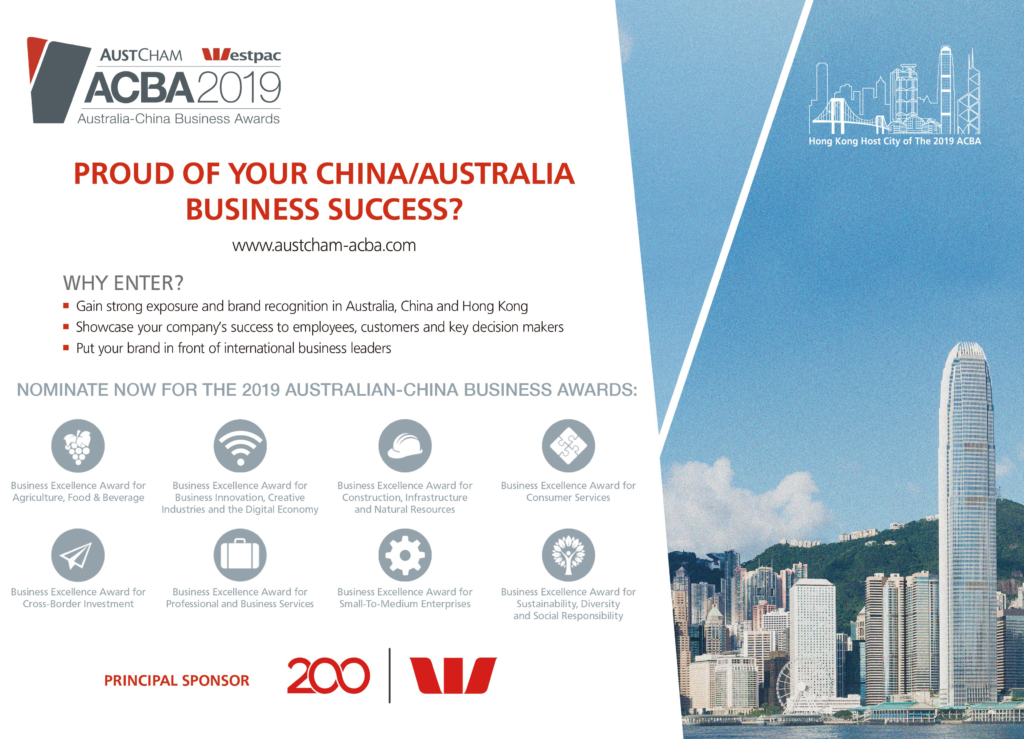 As the first Australian bank to open in Greater China and with over 40 years' presence in the region, Westpac has played a key role navigating China's incredible pace of transformation and helping Australian businesses of all sizes leverage opportunities in the important Australia-China corridor. As a 201-year-old bank, we understand the importance of long relationships, global networks and local knowledge, offering specialist teams across a range of sectors to ensure we understand the individual needs of our corporate and institutional customers.
Visit: www.westpac.hk or www.westpacbank.com.cn
Nominate Your Business Today – It's simple!

Nominations are now open for The 2019 AustCham Westpac Australia-China Business Awards (ACBAs). For the past 26 years the ACBA program has recognised outstanding Australian and Chinese companies operating in Greater China across both markets.
The ACBAs are the pre-eminent program celebrating the success of Australian and Chinese businesses in Greater China, drawing nominations from small entrepreneurs through to large publicly- listed companies across a broad range of sectors. Winners will be announced at the Awards Gala Dinner in Hong Kong in May next year.
The online entry form should take no longer than 10 minutes to complete. Simply provide general company information, list your company's major achievements over the past 12 months, and include your contact details to nominate your company for a 2019 ACBA Business Excellence Award – it's that easy! Finalists will be selected and advised.
CLICK HERE TO NOMINATE NOW
.