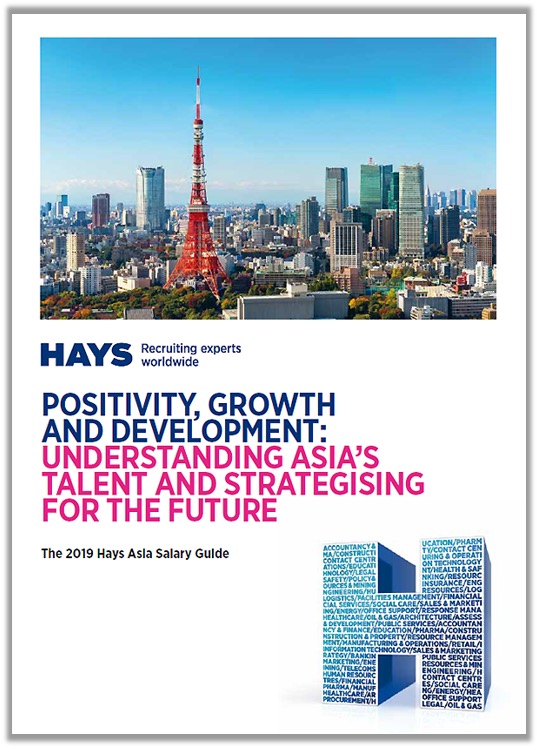 The global leading recruitment specialist Hays released its 2019 Hays Asia Salary Guide last week. The guide provides analysis and insights into salary and recruitment trends in more than 17 industrial fields based on a survey across Asia markets, including the Chinese mainland, Hong Kong Special Administrative Region, Singapore, Malaysia, and Japan.
The guide highlights that business activity in Asia was up year-on-year in 2018 and it predicts that trend will continue in 2019.
"2019 will be another active year for HR and Recruitment professionals" says Simon Lance, Managing Director of Hays Greater China. "Although businesses in the Chinese mainland are less optimistic about their economic prospects, more than half of the organizations surveyed indicated they would still increase their permanent headcount. That indicates strong underlying business confidence in the Chinese market, and will fuel ongoing demand for top talent particularly in high-skill industries & discipline."
For more information on Hays' Asia Salary Guide, visit the website. Moreover, click here to find the Hays Release 2019 Asia Salary Guide.

About HAYS 
Since March 2003, Hays PLC are the experts in recruitment of qualified and competent professionals around the world. Currently, the Hays Group is the global leader in specialized recruitment and represents a real strength in the world of human resources. Present in 33 countries, with 8748 collaborators, Hays places more than 57,000 applicants in hundreds of private and public companies each year.