Who Are They? 关于固法:
PW& Partners is a law firm providing dedicated legal services across the spectrum of Labor Law, State-owned Companies and Assets, Investment, M&A, IPR, Anti-unfair Competition, Anti-trust and commercial disputes resolution. PW & Partners' lawyers share one philosophy – putting our clients interest first and foremost to achieve the best possible results.
广东固法律师事务所长期专注于劳动法、国有企业与国有资产、投资并购、知识产权、反不正当竞争与反垄断、商事争议解决等领域的法律服务。固法律师共同秉承客户利益优先的服务理念,力求满足不同客户多样化需求,实现客户利益最大化。
Practice Area 业务范围 :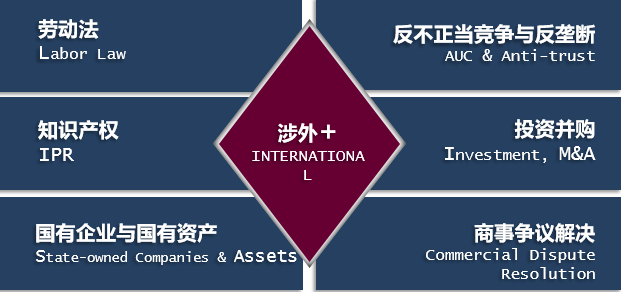 Legal Products of Labor Law 劳动法法律产品  
•Legal Counsel of Human Resource Management (HRM)
人力资源管理常年法律顾问
•Economic Redundancy Project Management
经济性裁员项目管理
•Project Design & Risk Prevention of Employee Resettlement in the Process of Merger, Relocation and Closure
企业并购、搬迁、关闭过程中员工安置方案设计与风险防控
•Design & Implementation of Employee Transfer
员工转签劳动合同方案设计与执行
•HRM related Rules Design & Regulations and HRM Training
人力资源管理规章制度设计与管理培训
•KPI and Employee Motivation Program Design
绩效考核与员工激励方案设计
•Crisis Management on Strike,Casualties etc.
罢工、伤亡等劳工关系危机处理
•Legal Solutions for Cross-border Employment
跨境用工法律解决方案
•Collective Negotiation
集体协商
•Labor Dispute Resolution
劳动争议解决
 Contact PW & Partners 联系方式 
Address: Room 3702-3703A, R&F TO-WIN Building, NO.30, Huaxia Road, Zhujiang New Town, Guangzhou, China地址:广州市珠江新城华夏路30号富力盈通大厦3702-3703A

电话Tel:(86 20) 87308387 / 87308390 / 87308260

邮箱E-mail: info@pw-partners.com

传真Fax:(86 20) 87308263

邮编Zip Code:510623