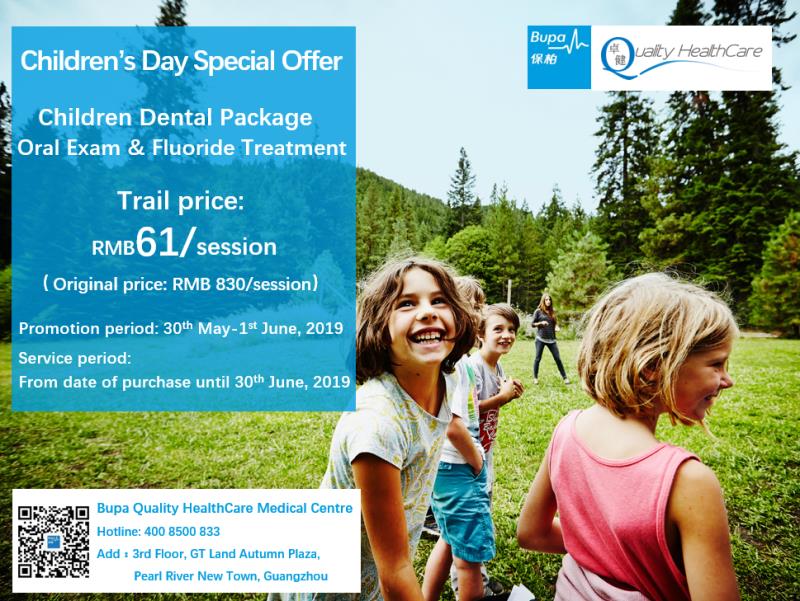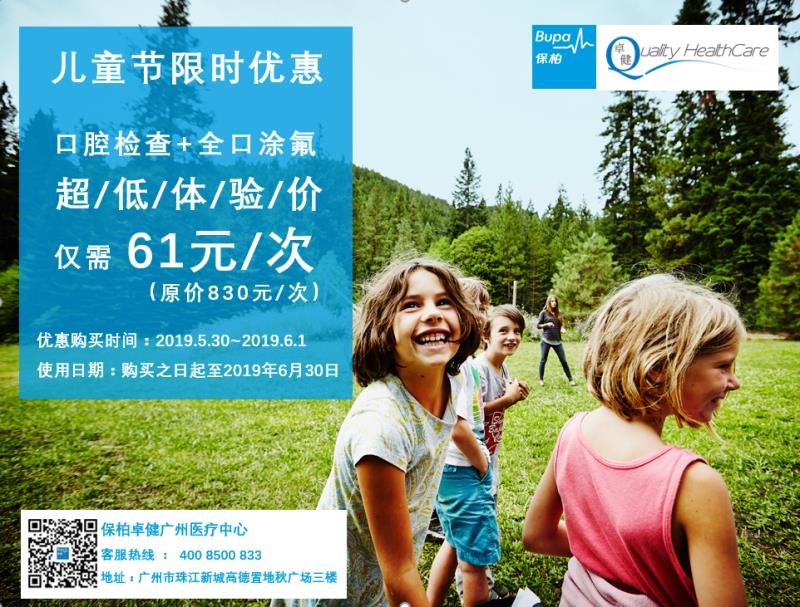 Bupa Quality HealthCare Guangzhou Medical Centre is Bupa first integrated medical centre in mainland China, delivering professional, caring and affordable medical services to both individual and corporate clients including family medicine, pediatric, gynecology, ENT and dental service etc. We provide one-stop service solution to facilitate comprehensive medical service, specialist referrals and service benefits within our strong Greater Bay Area network.
保柏卓健广州医疗中心是保柏在中国大陆首家高端综合性医疗中心,设有全科、儿科、妇科、耳鼻喉科、牙科,眼科和赴港医疗服务。 我们的宗旨是为客户提供专业、关怀、价格合理的医疗服务。保柏卓健为客户提供一站式,全方位的医疗服务。为客户提供大湾区医疗网络机构的优质医疗服务、专家推荐和会员福利。
In coming 6.1 Children's Day, we prepare a special privilege to all children. Only RMB61 can enjoy a children dental package including Oral exam & fluoride treatment, the original price is RMB830. Each child is limited to one time purchase during 30th May to 1st June, 2019. The service period will be until 30th June, 2019. You can pay at our medical center or contact us via 400-8500-833 for purchasing.  Please kindly refer to poster for more details.
在即将到来的6.1儿童节,我们为所有儿童准备了一个特殊的礼物。儿童牙科套餐包括口腔检查和全口涂氟仅需61元,原价830元。每个孩子在2019年5月30日至6月1日期间限一次购买。服务期至2019年6月30日。欢迎来诊所现场购买或者致电4008500833联系我们客服购买。 更多详情请参阅海报。