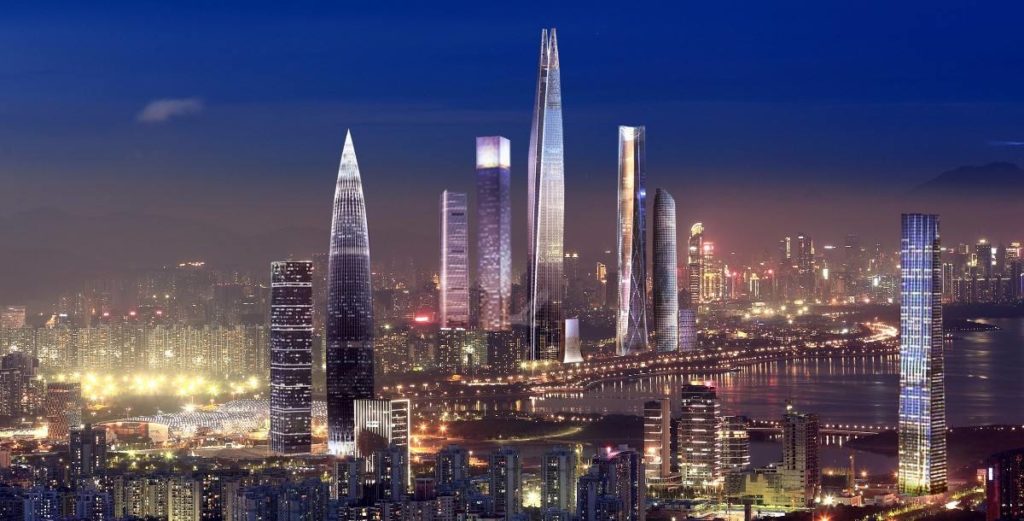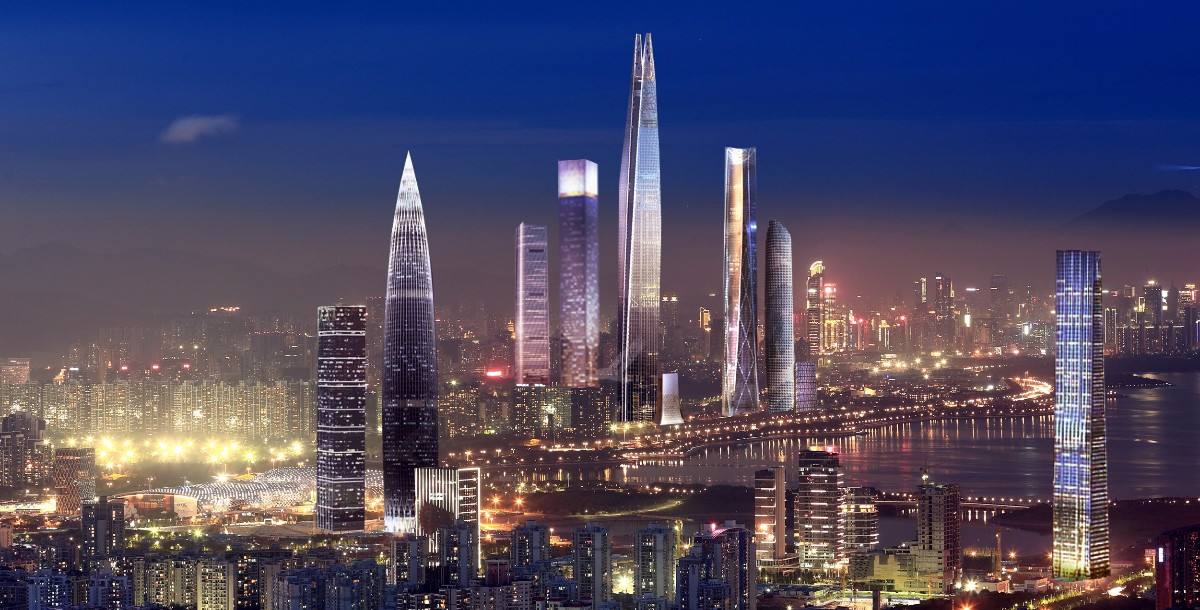 Shenzhen's history of development
Shenzhen is widely known for being the first city in China to be designated as a Special Economic Zone (SEZ). A common saying about Shenzhen is that it is a "city without history", which references its seemingly overnight transformation from a sleepy fishing village to a thriving metropolis. Before the SEZ was established in 1980, Shenzhen had a population of 300,000. Now it is home to over 18 million residents. Alongside its massive population growth, Shenzhen has experienced explosive economic growth as well, with the size of its economy overtaking Guangzhou's in 2016 and Hong Kong's in 2018.
Shenzhen's unique demographics also make it stand out among China's many cities. As China's melting point, Shenzhen is the country's largest immigrant city, with nearly 70% of its population being composed of migrants. It may be easier for foreigners to feel at home in Shenzhen than in Beijing or Shanghai because most of its residents originally hailed from other locations as well.  Shenzhen has a young population, with the average age of its residents being 28.7 years old. It is also the closest city in mainland China to Hong Kong.
Innovation focused 
Shenzhen is known for its high technology and is considered China's most innovative city, containing both small-scale startups and huge headquarters for famous tech companies. It is the home base of internet giant Tencent and was the birthplace of smartphone maker Huawei Technologies and drone maker DJI. Shenzhen's prime location in the Greater Bay Area (such as its close proximity to Dongguan, a city well-known for its factories and large-scale manufacturing) has given it a huge advantage in high-technology production.
The government has provided large amounts of support for Shanghai's tech campaign. Financial incentives and government measures commonly influence tech development, especially in trending areas such as electric vehicles, automation, drones, and AI. Government policies support the entire tech ecosystem, from start-ups to larger companies. More than half of China's crowdfunding platforms are based in Shenzhen, providing another source of support. With a wealth of customers and investors in Shenzhen, startups can easily become part of a positive feedback loop in order to gain valuable feedback and business insight. China Hi-Tech Fair, the largest and most influential scientific and technological fair in China, is hosted each year in Shenzhen. It provides entrepreneurs with an extensive public platform to exchange and share information about developments in the latest technologies, concepts, and solutions.
In 2018, nearly 20% of Shenzhen-registered listed companies spent more than 10% of their operating revenue on R&D, a level onpar with huge high-tech enterprises such as Google and Apple. Manufacturing in Shenzhen has become increasingly high-tech and clean-tech, favoring industries such as biotechnology, new materials, and numerical control tools.
Shenzhen has been able to sustain its innovation-centered growth due to its talented working population. College graduates make up 37.1% of its total population, which is higher than in either Beijing or Shanghai. Shenzhen's large influx of migrants has also become an important source of its entrepreneurial spirit. A popular saying in Shenzhen is that "You are a Shenzhener once you come here." It has been thoroughly branded as a city of opportunities and dreams, a city looking towards the future rather than mired in the past. The innovative spirit of Shenzhen also stems from the fact that its young entrepreneurs are surrounded and fostered by other ambitious, like-minded individuals.
Shenzhen has been designated by many as "China's Silicon Valley". The statistics are indeed impressive. Shenzhen now produces more than half of China's international patent filings. In achieved 7.5% GDP growth in the year of 2018, making the city China's third biggest by GDP. The levels of money and talent pouring into Shenzhen are still rising, meaning that its brightest days may still lie ahead.
Shenzhen-Australia
There are already existing ties between Shenzhen and Australia. An example of technological cooperation between the two is the Monash Deal. Under a 10-year agreement, intellectual property developed by Monash University's medical and engineering departments will be incubated at the Monash Technology and Transformation Institute, which is based in the Pingshan district of Shenzhen. Monash's partners in developing their technology will include the Shenzhen and Pingshan governments, as well as the Chinese tech investors Yungyu Investment and Changjun Capital.
While Silicon Valley is already well-established, it may be easier for aspiring entrepreneurs to break into the Shenzhen market. Attractive financial incentives from the Chinese government are specifically aimed to entice foreign professionals to locate their startups in Shenzhen. An example is the Shenzhen Municipal Government's "Peacock Initiative", which awards subsidies to startups teams (composed of foreigners or those with experience overseas) in the fields of IT, new-get IT, biology, and other emerging industries. Teams can win up to RMB 100 million, with an average award of RMB 20 million. There has also been a relaxation of national visa application procedures for foreign talent, while the business registration and deregistration process has been simplified.
Shenzhen's vast network of startup hubs provide the city with the ideal conditions for entrepreneurs to flourish and accelerate their growth. These startup hubs can specifically help and target Australian companies in China, such as the Australia China Innovation Center (ACIC), which provides Australian startups with a collaborative ecosystem in order to help them make an impact on the global market. ACIC does this by providing Australian entrepreneurs with mentoring services, co-working spaces, and mentoring services. Additionally, the Center can provide extensive opportunities for Australian start-ups to access Chinese investors and the Chinese market. ACIC is actively involved in the Shenzhen entrepreneurial scene.
Considering its thriving startup ecosystem and the high quantity of available government support, Shenzhen provides great opportunities to those hoping to introduce their business to the Chinese market. Feel free to contact Austcham South China for advice on how to get started.
References
https://asia.nikkei.com/Business/China-tech/Startups-power-Shenzhen-s-rise-as-high-tech-hub
http://english.cctv.com/2018/07/12/ARTIs7DfMJURO0nhYKmRNPP6180712.shtm
https://www.china-briefing.com/news/incentives-shenzhen-attracting-foreign-talent/
https://www.forbes.com/sites/jamesgiancotti/2016/09/28/why-you-should-launch-your-hardware-startup-in-shenzhen/
https://www.ft.com/content/760d4714-60da-11e9-b285-3acd5d43599e
https://news.cgtn.com/news/31457a4e356b7a6333566d54/share.html
https://www.scmp.com/article/660701/shenzhen-sleepy-village-city-migrants
https://www.theguardian.com/cities/2016/may/10/story-of-cities-39-shenzhen-from-rural-village-to-the-worlds-largest-megalopolis
https://www.trincoll.edu/UrbanGlobal/CUGS/about/Documents/Chen%20and%20Ogan-Shenzhen%20as%20China%27s%20Silicon%20Valley-Dec-Jan%202017.pdf