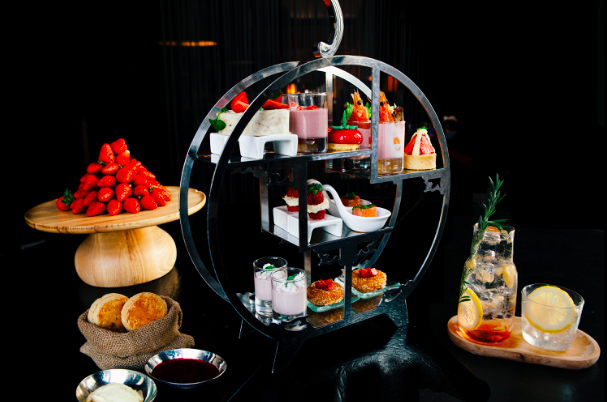 Go Strawberry Afternoon Tea @ Guanxi Lounge
Contact:
Natacha Zou  | 邹烨
Director of Marketing & Communications| 市场传讯总监
Tel: +86.20.8396.1234 ext.3290
Email: natacha.zou@hyatt.com
Meet your summer sweet at Guanxi Lounge. We creatively present you a Go Strawberry Afternoon Tea with an indulgent and creative combination of savory and sweet flavors, featuring mousses, cheese and seafood. Pamper yourself with a joyful afternoon gathering.
Promotion Period: August 5 to August 31, 2019 (Monday to Friday)
Promotion Price: CNY 268 / two persons
Location: Level 22
Price is subject to 15% charge (inclusive of service charge and tax)
For reservations, please call +86 20 8396 1234
---
About Grand Hyatt Guangzhou
Grand Hyatt Guangzhou is a five-star luxury hotel located in the new central axis of Guangzhou, China — the Central Business District of Pearl River New City.  Located on the 22nd floor, the hotel's Sky Lobby offers panoramic views of Guangzhou's Huacheng Square.  Grand Hyatt Guangzhou features 368 guestrooms and suites and five food and beverage outlets, including Cantonese cuisine at The Penthouse, buffet-style dining at Market Café and authentic western food at G Restaurant.  Experience a luxury five-star stay with our rooftop O Spa and Fitness Center.  Meeting and wedding planners can choose from more than 1,313 sq. m (14,133 sq. ft.) of exceptional function space, including a Grand Ballroom and six meeting rooms.
Hotel Information
Hotel name: Grand Hyatt Guangzhou
Address: 12 Zhujiang W. Rd., Pearl River New City, Tianhe District, Guangzhou, P.R.C., 510623
Phone: +86 20 8396 1234
E-mail: Guangzhou.grand@hyatt.com
Website: www.grandhyattguangzhou.com
---
盛夏甜心 / 关系酒廊草莓下午茶
当热情的盛夏遇见诱惑力满分的草莓,关系酒廊带你邂逅夏日的甜蜜芬芳。酸甜的草莓搭配绵密慕斯,香浓奶酪和鲜美三文鱼,彻底激发出诱人的滋味,忍不住将这盛夏甜心与午后的阳光一起卷入舌尖。
推广日期:2019年8月5日至8月31日,每周一至周五供应
推广价格:人民币268元 / 两位
地点:酒店22层
以上价格需加收15%(含服务费和税费)
查询或预定,请致电+86 20 8396 1234
---
酒店介绍
广州富力君悦大酒店是凯悦国际酒店集团在中国大陆的第四间酒店,位处广州新中轴线——珠江新城的商务中心区。酒店共有368间客房,其中144间园景客房可观赏花城广场的美丽自然景色。五间各具特色的餐厅与酒吧,均可欣赏花城广场的怡人景色。无柱式大宴会厅位于酒店三楼,面积978平方米,两旁设有六间多功能会议室,均配备了宽频上网等会议专用设施。酒店还设有占地1380平方米的[清]水疗中心、健身中心和室内恒温泳池。
酒店信息
酒店名称: 广州富力君悦大酒店
地址:中国广州市天河区珠江新城珠江西路12号
电话:+86 20 8396 1234
邮件:guangzhou.grand@hyatt.com