Hybean Buffet Afternoon Tea @ The Market Café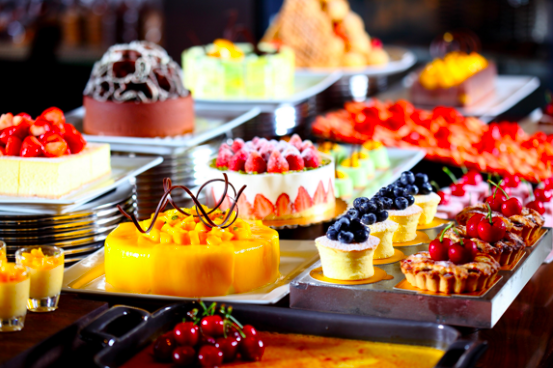 Embark on your enjoyable weekend with a sumptuous afternoon tea. Featuring exquisite western desserts, Cantonese dim sum and other delicacies, hotel ambassador Mr. Hybean warmly welcomes you to experience a great weekend afternoon with an abundance of tasty.
Valid on Saturday and Sunday, from August 3, 2019
Promotion Price: CNY 169 / adult
                            CNY 88 / child (6-11 years old)
Location: Level 22
Price is subject to 15% charge (inclusive of service charge and tax)
For reservations, please call +86 20 8396 1234
THE MARKET CAFÉ
Conveniently located on Level 22 of the office tower and accessible from the Grand Hyatt Guangzhou hotel's sky lobby, The Market Cafe is a trend-setting buffet restaurant that offers Western and Asian cuisines from eight live cooking stations.  With a casual yet modern ambience, it extends from the suspended link bridge. Diners can also enjoy panoramic views of Huacheng Square, Guangzhou's new central axis, as well as of our show kitchens to see the chefs in action. Enjoy pleasant dining experience of the best buffet in Guangzhou!
---
About Grand Hyatt Guangzhou
Grand Hyatt Guangzhou is a five-star luxury hotel located in the new central axis of Guangzhou, China — the Central Business District of Pearl River New City.  Located on the 22nd floor, the hotel's Sky Lobby offers panoramic views of Guangzhou's Huacheng Square.  Grand Hyatt Guangzhou features 368 guestrooms and suites and five food and beverage outlets, including Cantonese cuisine at The Penthouse, buffet-style dining at Market Café and authentic western food at G Restaurant.  Experience a luxury five-star stay with our rooftop O Spa and Fitness Center.  Meeting and wedding planners can choose from more than 1,313 sq. m (14,133 sq. ft.) of exceptional function space, including a Grand Ballroom and six meeting rooms.
Hotel Information
Hotel name: Grand Hyatt Guangzhou
Address: 12 Zhujiang W. Rd., Pearl River New City, Tianhe District, Guangzhou, P.R.C., 510623
Phone: +86 20 8396 1234
E-mail: grandhyattguangzhou.com
Website: www.grandhyattguangzhou.com
---
凯菲厅赤小宝自助下午茶
慵懒的周末,和朋友的聚会从下午茶开始。赤小宝邀您前来凯菲厅体验新式自助下午茶,融合缤纷甜美的西点,精心巧制的茶点,美味的主食与轻食,每周新鲜不重样,为周末小聚增添十足的仪式感与欢乐。
推广日期:2019年8月3日起,每周六、周日供应
推广价格:人民币169元 / 成人
          人民币88元 / 儿童(6~11岁)
地点:酒店22层
以上价格需加收15%(含服务费和税费)
查询或预定,请致电+86 20 8396 1234
###
凯菲厅 独特的开放式酒店餐厅
广州五星级豪华商务酒店的自助餐厅 – 凯菲厅坐落在双子塔建筑南塔的22层,位于酒店空中大堂及空中悬桥——"关系酒廊"的延伸之处,从南塔一楼乘坐专用电梯同样可轻松到达。凯菲厅由国际知名室内设计公司Superpotato设计,以厨房为主要概念,拥有8个开放式厨房,厨师们为客人现场制作世界各地自助餐精品美食。客人的用餐区域如同开阔的厨房的一部分,形造出一个"坐在厨房,吃在厨房"的新鲜感觉。
凯菲厅里多个简约透彻的玻璃架子,自天花垂吊而下,如同自家厨房的壁橱,整齐地排列着色彩缤纷的各种食材,刺激着客人的食欲。由原始砂岩打造的石墙和厨房柜台,没有过多的雕琢,却更能显出独特自然的别致风味。设计师更别出心裁的在各个开放式厨房中设置一个绚丽晶莹的柜台,发出温暖的橙红色灯光,如同厨房中的点点火光,来突出各个厨房的区域;并使开放式的厨房在灰色石墙与玻璃架的冷色调对比之下,成为吸引客人眼球的一大亮点。
酒店介绍
广州富力君悦大酒店是凯悦国际酒店集团在中国大陆的第四间酒店,位处广州新中轴线——珠江新城的商务中心区。酒店共有368间客房,其中144间园景客房可观赏花城广场的美丽自然景色。五间各具特色的餐厅与酒吧,均可欣赏花城广场的怡人景色。无柱式大宴会厅位于酒店三楼,面积978平方米,两旁设有六间多功能会议室,均配备了宽频上网等会议专用设施。酒店还设有占地1380平方米的[清]水疗中心、健身中心和室内恒温泳池。
酒店信息
酒店名称: 广州富力君悦大酒店
地址:中国广州市天河区珠江新城珠江西路12号
电话:+86 20 8396 1234
邮件:guangzhou.grand@hyatt.com