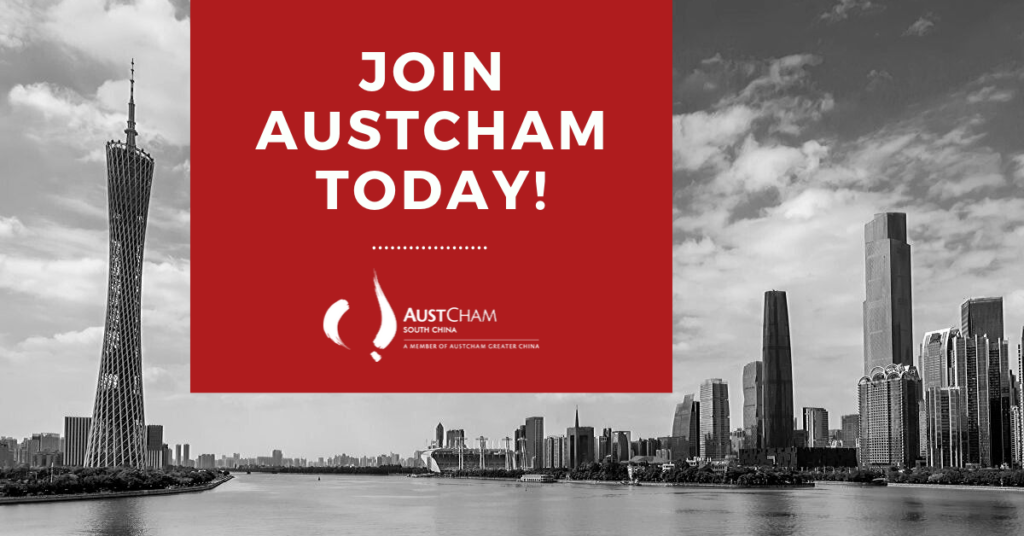 AUSTCHAM SOUTH CHINA INTERNSHIP PROGRAM
About AustCham South China
  The China Australia Chamber of Commerce–South China (AustCham) was established in 1994 to develop, promote and expand business relations between Australia and China through the representation of its membership. As a registered NGO office in the People's Republic of China, AustCham serves as Australia's peak industry body and supports its members by providing information, connections, business services and government relations assistance.
As a platform AustCham enables its members to exchange information on business opportunities in the region. AustCham South China's office is based in Guangzhou with representation across the broader South China region (Fujian, Hunan, Jiangxi, Guangxi, Guangdong and Hainan Provinces).
About AustCham South China's Internship Program
AustCham South China interns are given the opportunity to work alongside a passionate and innovative team dedicated to assisting companies doing business in South China. Interns will also receive guidance from the AustCham South China Board of Directors representing many of Australia's business leaders in the region.
Through the internship program, interns will develop skills in industry relations, market research, communications, event management, project management and government relations. Internships are 2-6 months in duration and are undergone on a part-time or full-time basis. For non-Chinese applicants, visa assistance will be provided to successful applicants. AustCham South China will provide interns arriving from overseas information concerning flight bookings, accommodation and other general matters, but interns are ultimately responsible for making these necessary arrangements. AustCham South China covers associated work expenses, however the program does not offer a salary. It is advised that interns outside of Guangzhou make necessary budget arrangements prior to arrival in Guangzhou.
Internship Positions Available
Industry & Advocacy Associate
Marketing & Communications Associate
Finance Associate
INDUSTRY & ADVOCACY ASSOCIATE
Key Responsibilities
Assist Relationship Manager to refine and execute AustCham South China industry and advocacy strategies
Conduct industry research and data analysis
Produce industry reports and position papers
Source new members and develop membership proposals
Retain existing members through excellent delivery of AustCham services
Source new strategic partners and develop project proposals
Design and execute sponsorship agreements
Represent AustCham South China at meetings with existing members, prospective members and strategic partners
Represent AustCham South China at Chamber and member company events
Qualification Requirements
Currently undertaking Bachelor's degree or equivalent in a related field
Demonstrated interest in Australia-China relations
Excellent verbal and written communication skills
IELTS (Academic) 6.5 (for non-native speakers of English)
HSK 3 or equivalent level of study (for non-native speakers of Chinese)
Strong analytical and research skills
Ability to build relationships with key stakeholders in corporate environment
Strong work ethic and aptitude for excellence
Must be organized and detail-oriented
Ability to work independently and effectively within a cross-cultural small team environment
Ability to work under pressure and met KPIs
Understands the considerations and values of a non-profit NGO
Background in import/export and sales not essential, but highly regarded
MARKETING & COMMUNICATIONS ASSOCIATE
Key Responsibilities
Assist Project Manager to refine and execute AustCham South China marketing and communications strategies
Conduct market research and data analysis
Design and execute sponsorship agreements
Design, organise and manage AustCham South China events
Represent AustCham South China at Chamber and member company events
Produce digital marketing and publication materials and content
Generate creative ideas for marketing and promotional initiatives
Qualification Requirements
Currently undertaking Bachelor's degree or equivalent in a related field
Demonstrated interest in Australia-China relations
Excellent verbal and written communication skills
IELTS (Academic) 6.5 (for non-native speakers of English)
HSK 3 or equivalent level of study (for non-native speakers of Chinese)
Adobe Creative Suite (Photoshop, Publisher, InDesign, Illustrator)
Strong creative graphic design skills
Strong understanding of current digital design trends
Understanding of social media channels e.g. LinkedIn, WeChat, Facebook
Strong work ethic and aptitude for excellence
Must be organized and detail-oriented
Ability to work independently and effectively within a cross-cultural small team environment
Ability to communicate with members and key stakeholders in a highly professional and helpful manner
Understands the considerations and values of a non-profit NGO
Knowledge of and experience in CSS, HTML and WordPress not essential, but highly regarded
Background in graphic design, web design, UI design, photography, film, or visual arts not essential, but highly regarded
Photography skills not essential, but highly regarded
FINANCE ASSOCIATE
Key Responsibilities
Assist Treasurer, Finance Manager and General Manager to refine and execute AustCham South China finance and marketing strategies
Assist with preparation of AustCham's monthly finance reports and budgets in consultation with Executive Committee
Assist with establishing and executing management plans informed by ongoing financial reporting, accounts management and business administration
Assist with event planning and budgets in consultation with the Executive Committee
Assist with sponsorship planning and budgets in consultation with the Executive Committee
Conduct market research and data analysis
Qualification Requirements
Currently undertaking Bachelor's degree or equivalent in a related field
Demonstrated interest in Australia-China relations
Excellent verbal and written communication skills
IELTS (Academic) 6.5 (for non-native speakers of English)
HSK 3 or BCT (Intermediate) or equivalent level of study (for non-native speakers of Chinese)
Knowledge of and experience in Microsoft Word, Excel and Powerpoint essential
Strong work ethic and aptitude for excellence
Must be organized and detail-oriented
Ability to work independently and effectively within a cross-cultural small team environment
Understands the considerations and values of a non-profit NGO
Application Deadline:
Applications for November 2019 to February 2020 placements have now closed
*Please Note
Part-time and full-time options are available. The minimum time commitment required is 2 months (8 working weeks). Placements shall not run for more than 6 months (24 working weeks)
To Apply
To apply, please email your CV and Cover Letter to:
Please indicate in your Cover Letter the position you are applying for and your part-time/full-time capacity for placement