Member Event | Seminar: Handling China Employment and Visa Issues Throughout and Beyond COVID-19
22 September @ 2:00 pm

-

4:30 pm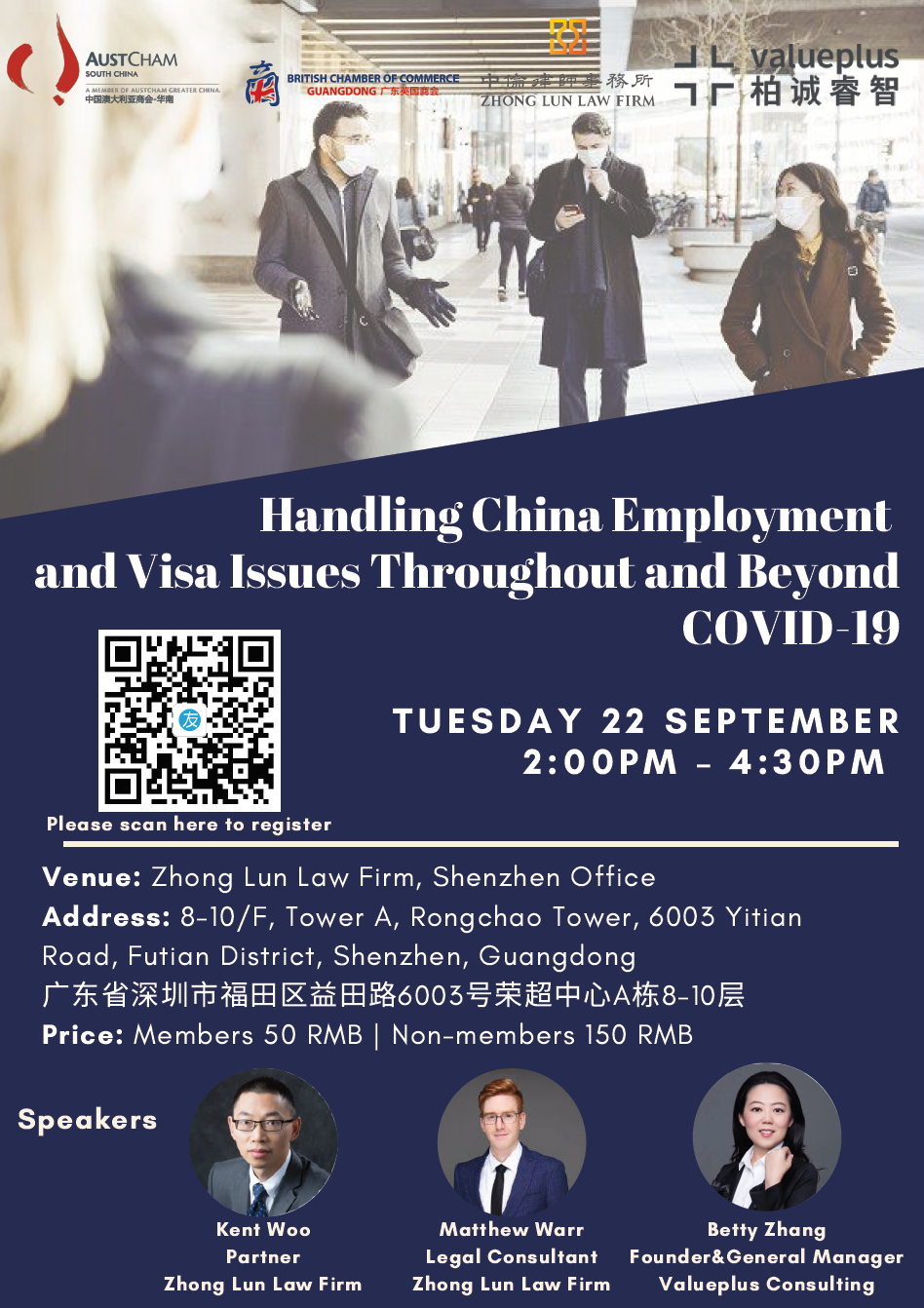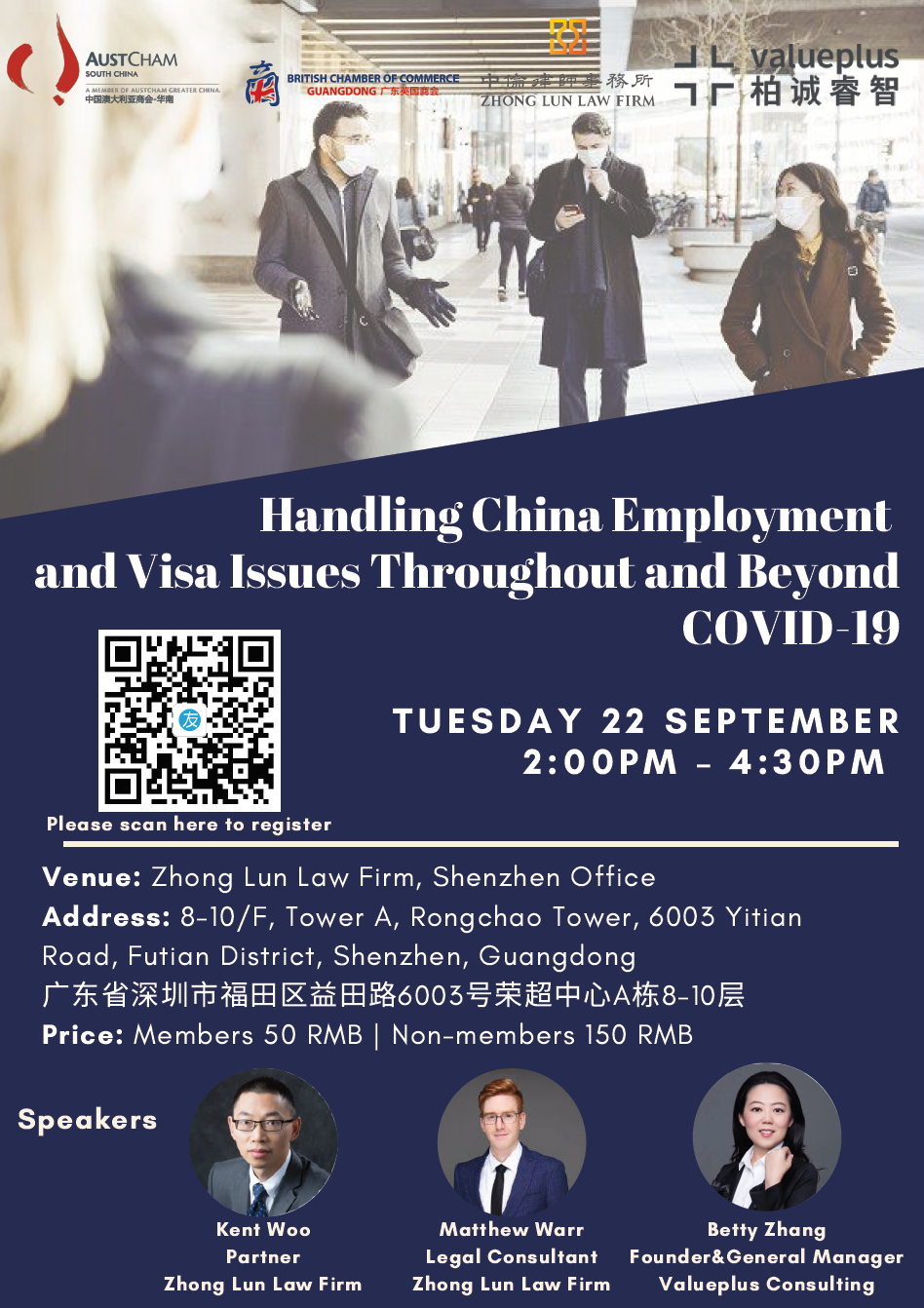 Overview
As China's economy slowly picks up from the impact of COVID-19, many companies are still facing challenging human resourcing (HR) issues, including those related to employment and visas for foreign nationals.
In these difficult and uncertain times, some companies are forced to lower their costs to survive before the general economic situation recovers, which often means salary reductions and/or employee layoffs.  However, complying with the relevant laws and regulations and following the proper legal procedures can be complicated.
Other companies, on the other hand, are desperate for their foreign employees to return to China for work since the ban on the entry of foreign nationals into China after March 28. Key developments since the ban include a fast-track channel allowing select foreign nationals (e.g., senior executives of large companies) to apply for special entry, and most recently an announcement on 10 August by the Chinese Embassy in Denmark that China will allow eligible foreign nationals from 36 countries to apply directly for a Chinese visa from the Chinese Embassy or Consulate in those countries. However, in either case, applicants must still meet certain eligibility criteria and go through specific procedures to apply for and successfully obtain a visa.
Join Zhong Lun Law Firm and Valueplus Consulting, in collaboration with the Australian Chamber of Commerce (AustCham) South China and the British Chamber of Commerce (BritCham) Guangdong, for our upcoming seminar as we address employment and visa issues throughout and beyond COVID-19.
Content
Zhong Lun Law Firm's and Valueplus Consulting's presentations will include, but are not limited to, the following content:
Zhong Lun Law Firm:
Labour laws and regulations related to terminations, lay-offs, and salary reductions amid COVID-19

How to legally terminate or lay-off employees due to the economic impact of COVID-19 and other reasons?
What procedures need to be followed during and after terminating employees?
What is the difference between a lay-off and a normal termination? What are the pros and cons of each?

Can I reduce my employees' salary or working hours due to the economic impact caused by COVID-19? If so, what are the processes I should follow to do this legally?
Under what conditions must an employer pay an employee severance pay upon the employee's termination of employment?

For what reasons can an employer terminate an employee without paying the employee any severance pay?

Case studies.
Valueplus Consulting:
Who is eligible to apply for a new visa to return to China without an Invitation Letter from China Foreign Affairs Office?

Who must obtain an Invitation Letter to be eligible for a new visa to enter China?

How to apply for an Invitation Letter and how long will it take?

What to do if the work permit and residence permit is about to expire when I'm still outside China?

What are the 14-day quarantine procedures after I come back to China?

Tips on dealing with typical visa cases.
Following the presentations there will be time for Q&A and networking.
Event Details
Date: Tuesday 22 September
Time: 2:00pm – 4:30pm
Venue: Zhong Lun Law Firm, Shenzhen Office
Address: 8-10/F, Tower A, Rongchao Tower, 6003 Yitian Road, Futian District, Shenzhen, Guangdong 518026, P. R. China
广东省深圳市福田区益田路6003号荣超中心A栋8-10层
Price: Members 50 RMB, Non-members: 150 RMB
Scan the QR code below to register now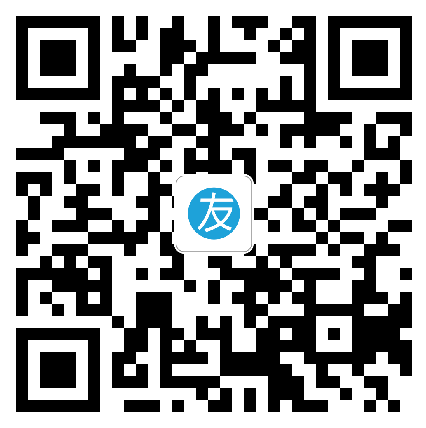 Speakers
Kent Woo
Partner
Zhong Lun Law Firm

Kent Woo is a Partner at Zhong Lun Law Firm Guangzhou Office, where he heads its premier international trade and investment team. Fluent in English and Chinese (Mandarin and Cantonese), Kent and has over 20 years of experience providing legal advice and services to international companies doing business in or with China. Kent's expertise includes corporate and commercial law, foreign direct investment, mergers & acquisitions, labour & employment, intellectual property, compliance & investigations, criminal defense, and litigation & arbitration. His clients are mainly multinational corporations and small and medium enterprises from various countries and regions around the world, including from Europe, the United States, India, Israel, Australia, and Hong Kong.
Matthew Warr
Legal Consultant
Zhong Lun Law Firm

Matthew Warr is a Legal Consultant at Zhong Lun Guangzhou Office. Matthew has a wealth of experience providing legal advice and services to international companies investing in or trading with China, and like Kent his expertise lies in the abovementioned areas. His clients mainly comprise companies from Australia, the United States, the United Kingdom, Canada, Europe and South East Asia. Matthew is also a Board Director of the Australian Chamber of Commerce (AustCham) South China, is fluent in English and Chinese (Mandarin), and has lived in China for more than a decade.
Betty Zhang
Founder and General Manager
Valueplus Consulting

Betty Zhang is the Founder and General Manager of Valueplus Consulting. Betty has 10 years of HR experience in Fortune 500 companies such as Samsung and PwC, and is an expert on Chinese visa policies, labour law, and talent attraction, development and retention. She established Valueplus Consulting to assist foreign companies in every stage of their growth including but not limited to their entry into China as well as their sustainable development and expansion throughout China.
About Zhong Lun Law Firm

Zhong Lun Law Firm is a market leading, full service Chinese law firm. Since its founding in 1993, Zhong Lun has become one of the largest law firms in China, with 340+ partners and 2,100+ lawyers and professionals, including both recognized leaders in the Chinese legal profession and experienced senior lawyers from top international law firms.
Zhong Lun offers legal services across 28 core practice areas, and has a network of 11 domestic offices in mainland China in the leading centres of Beijing, Shanghai, Shenzhen, Guangzhou, Chengdu, Wuhan, Chongqing, Qingdao, Hangzhou, Nanjing and Haikou as well as an office in the international gateway city of Hong Kong. Zhong Lun also has international offices in Tokyo, London, New York, Los Angeles, San Francisco and Almaty, and maintains cooperative relationships with leading law firms in numerous countries and territories around the world for both inbound and outbound China-related matters. Zhong Lun is therefore well-positioned to provide clients with high quality legal services across a wide range of industries and sectors not only in China, but also in more than 90 jurisdictions around the world.
You can scan the QR below to follow Zhong Lun's WeChat account:

About Valueplus Consulting

Valueplus Consulting is a leading corporate services company in South China. Valueplus Consulting provides foreign and local Chinese companies with a full range of corporate and human resources consultancy services. If you are a company wanting to enter the Chinese market, or in need professional corporate services, or looking to streamline existing operations, Valueplus Consulting can help. Our services include work visas, HR advisory, accounting and tax advisory, tailor-made training, talent development and retention etc.
You can scan the QR below to follow Valueplus Consulting's WeChat account:

---