Event Review | Ambassador Briefing
07-09-20 @ 10:00 am

-

11:00 am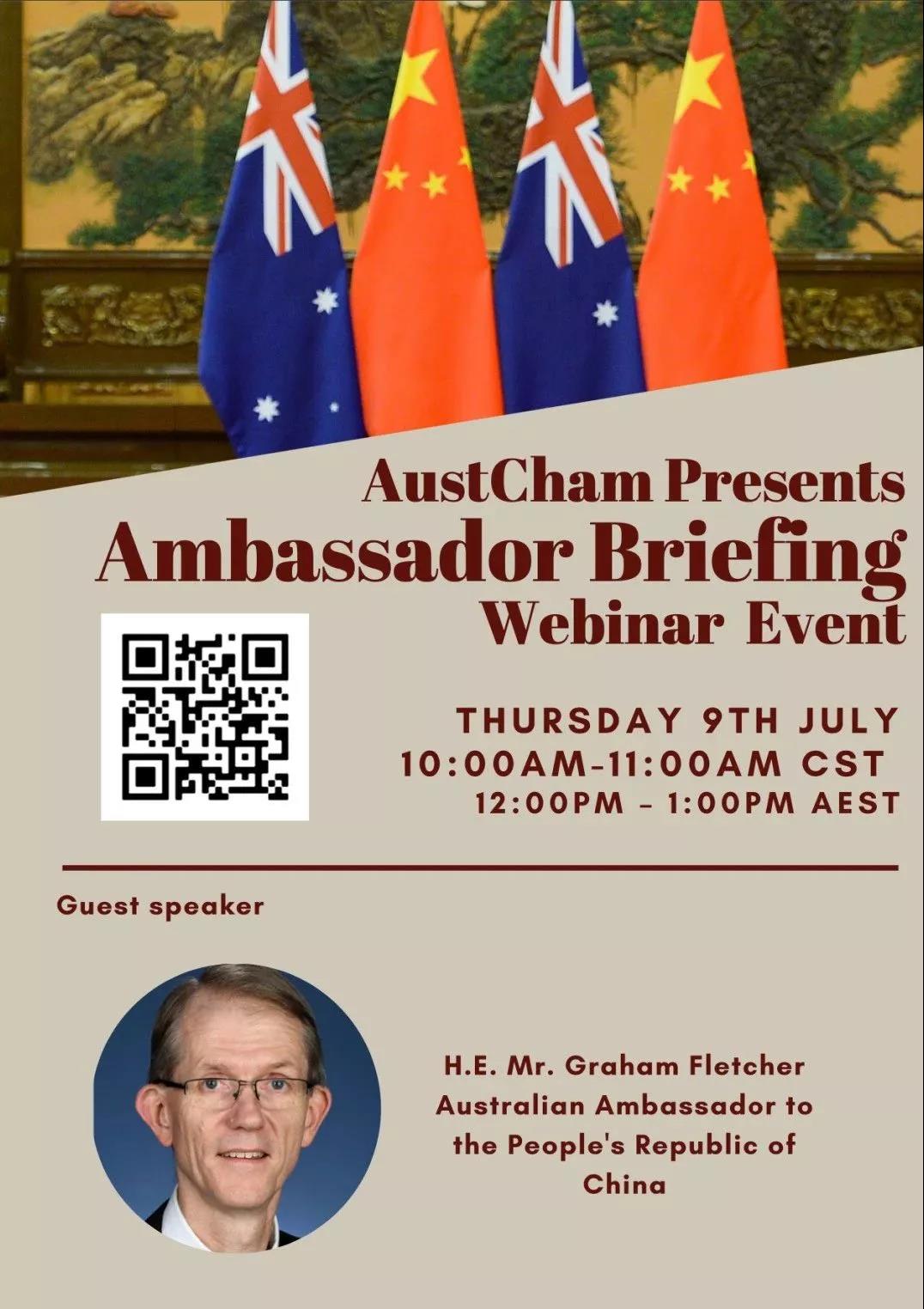 Overview:
The webinar provided insight into the Australia-China bilateral relationship, the respective countries' COVID-19 situation, and the changes occurring in China's economy.
This event was hosted by Graham Fletcher (Australian Ambassador to the People's Republic of China), with commentary from Lachlan Crews (Economic Minister-Counsellor at the Australian Embassy) and Paul Cheyne (Trade and Investment Commissioner at Australian Embassy in Beijing).
This briefing was given under the Chatham House rule which means information disclosed may be reported by those present, but the source of that information may not be explicitly or implicitly identified.
Key Outtakes:
China Macro economy
China's economy continues to recover from the sudden contraction in activity over the period of the COVID outbreak, most noticeable in February, but the recovery is uneven.  May data tells us industrial profits are up 6% year on year, but still down for 2020. Private firms and foreign companies' profits have improved. Private sector estimates based on 'high-frequency data' suggest the economy is at about 90 per cent of normal activity.

Purchasing Managers Indexes, which give a month-on-month snapshot of expected business conditions, were better than expected in June. The strength comes primarily from domestic activity. Caixin services PMI was 58.4, quite a strong reading.

While the PMI reading for new export orders improved in June compared to May, it represents continued contraction (47).  Trade continues to be a weak point for demand in China.

Travel over the Dragon Boat holiday was down 69% compared to last year.
Trade
Bilateral trade remains relatively strong, all things considered. Services trade (education and tourism) has been heavily impacted by COVID-19 control measures.

Two-way trade in goods in the first five months of 2020 grew by 0.3% (US$65 billion). Chinese goods imports from Australia declined for the first time in May, reversing positive growth in the first four months of the year.

Resources have performed well through the COVID-19 crisis. China's total coal imports from Australia between January and May 2020 remained up 63% y-o-y at 48 million tonnes. Australia remains China's major supplier of iron ore, accounting for 65% of China's imports, which are up 5% by volume and 12% by value y-o-y. LNG imports are also up by volume, but down by value with low global energy prices.

Increased infrastructure spending in China should drive continued strong demand for Australian commodities.

We have also seen continued strong demand for Australian agriculture products. For example, beef exports to China to May 2020 have increased 7.3% y-o-y.  On 3 July the first shipment of 1,785 live cattle from Australia arrived at Macun Port, Hainan Province.  The cattle were imported with zero tariff under ChAFTA.
Consumer Trends
Premier Li Keqiang announced in May that street vending would become a significant part of China's economic recovery

Major tech platforms including WeChat, Alipay, and e-commerce platforms JD.com and Suning have announced plans to help street vendors and smaller retailers recover from the impact of COVID-19.
The "night economy" is surging as a new growth driver in post-COVID-19 China. Now, as people return to the streets and markets all over China, shopping habits are shifting. According to data released by WeChat in June, 8pm to 6am have become the most active business hours for small businesses in China.

E-commerce and social media continue to dominate sales Livestreaming has also become one of the most effective marketing tools in China.

According to China's "daily life-services" platform Meituan, Generation Z (people born post-1995) are becoming increasingly health-conscious with purchases focused on health and well-being products and services
Favourite activities according to key word searches include yoga, Traditional Chinese Medicine, massage and foot therapy

Eating habits are also changing with reports showing that orders for "light and nutritious food" by post-95 consumers have increased by 45.6% year-on-year.
China is also witnessing strong ongoing demand for online education, a pre-existing trend but accelerated by the pandemic. One of China's giant online educators, Zuoyebang (over 800 million registered users), recently announced the completion of Series E funding of $750 million. Alibaba has also launched Taobao Education

In order to support even greater and more widespread use of digital health services, Beijing has adopted measures allowing patients to seek reimbursement for qualified online medical consultations. WeDoctor alone saw around 140 million visits to its platforms between February and April. The health sector is one where Australian firms have significant opportunities for collaboration.