Event Review | Resetting China's Growth Model
07-03-20 @ 10:00 am

-

11:00 am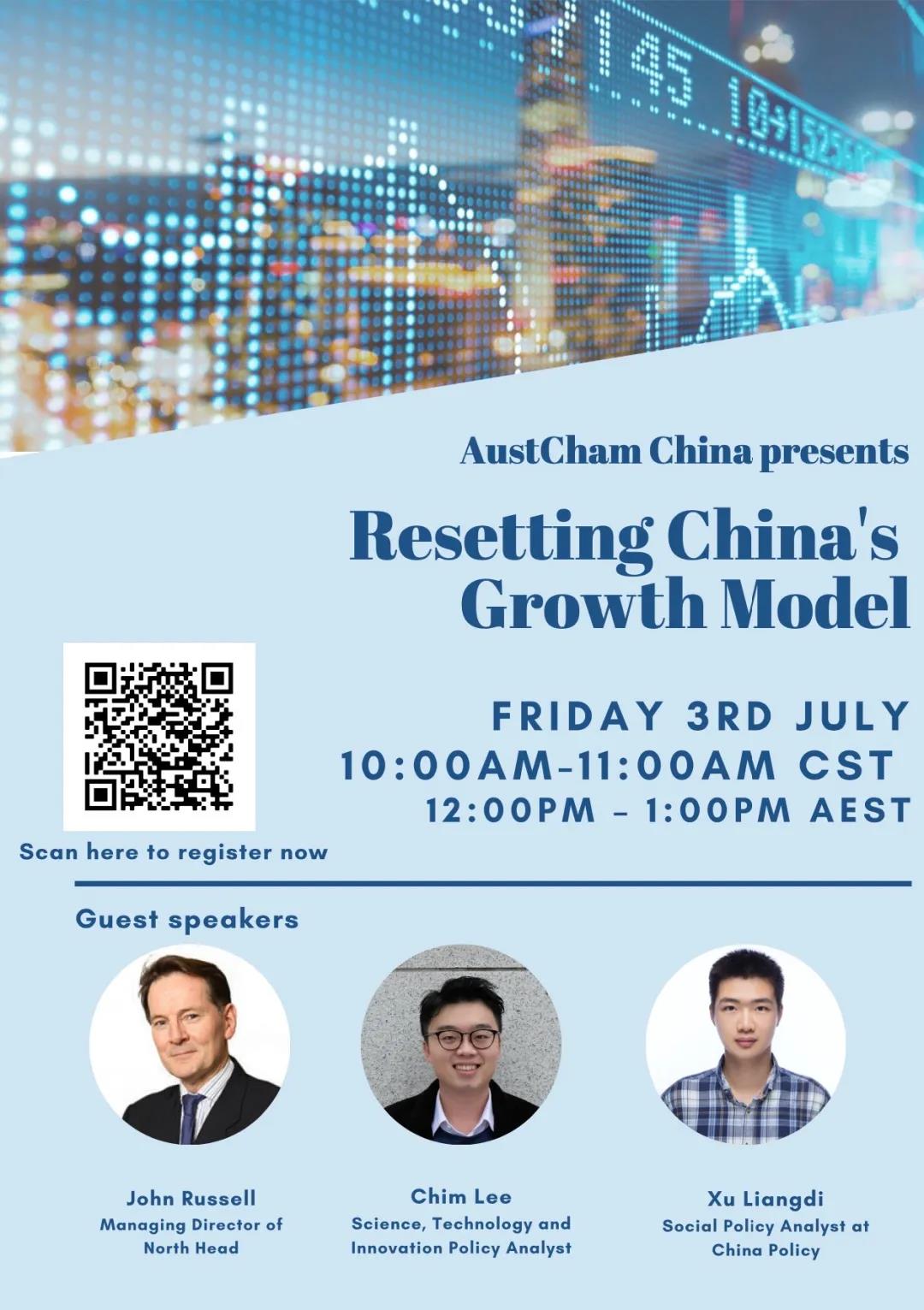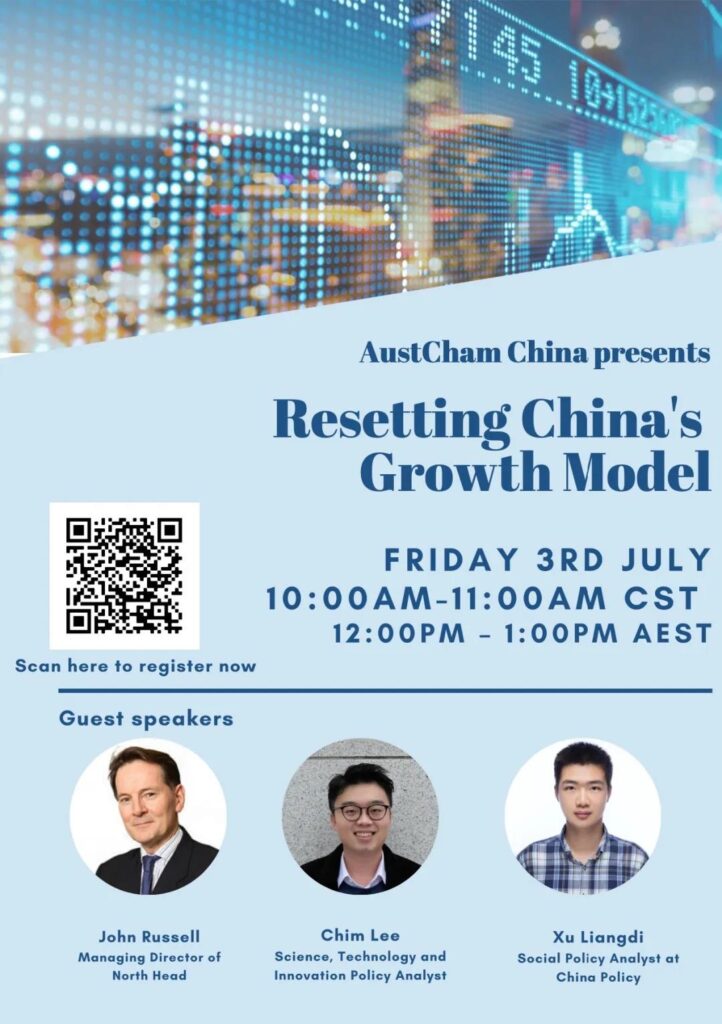 Today's Webinar focused on analysing China's shift towards a social policy driven growth model and how opportunities for foreign business and investment in China remain abundant despite its shift of emphasis from export reliance towards domestic consumption.
A panel including: John Russell (Managing Director, North Head); Chim Lee (Science, Technology and innovation Policy Analyst at China Policy); and Xu Liang Di (Social Policy Analyst at China Policy) discussed new drivers for economic growth in China and any potential uncertainties for Australian businesses in the next few years.
General Economic Outlook
Firstly, the panel agreed that the absence of an explicit GDP target in the Government's policy objectives this year (the first time since 2002) was a significant indicator of China's economic trajectory for the next few years. Xu Liang Di stated that while an inferred GDP target could be around 3-4 per cent, the choice to focus on social oriented goals such as poverty alleviation, securing livelihoods and stabilising employment demonstrates that China is looking to invigorate domestic consumption to address income, education and healthcare inequality.
However, the panel was quick to reassure foreign companies that a movement away from export reliance does not mean less business and investment opportunities. Although China's economy is obviously depleted somewhat due to Covid-19, IMF estimates suggest that China will continue positive growth of 1 per cent this year and rebound to 8.4 per cent in 2021 while the US and EU could experience large negative growth.
This means that, not only is China continuing to welcome foreign businesses and investors, the Chinese economy remains a reliable business environment for foreigners. With a fiscal stimulus package of AUD 1.8 trillion aimed at infrastructure provisions and industry innovation as well as a AUD 540 billion relief package, there is an opportunity for foreign businesses – particularly micro and small and medium enterprises (SME's) – to diversify and capitalise on emerging industries.
Key Economic Opportunities
One industry that will be key moving forward will be e-commerce. John placed particular emphasis on e-commerce being a foundation for Government growth plans, looking to expand on a 68 per cent growth rate in 2019. With 105 import pilot cities already, Covid-19 may act as a positive catalyst in this area, increasing domestic demand and, in turn, provide a great opportunity for foreign enterprises to enjoy GST and company income tax exemptions among other benefits.
Another prospective industry was identified as investment in online healthcare and education services. While these industries were already emerging pre-Covid, the outbreak of the virus fast-tracked the industry out of necessity. This means that these industries have a lot of room for technological innovation as they are currently imperfect attempts to mirrors pre-existing education and healthcare services. Also, given the Government's growth trajectory, this will definitely be a heavily supported industry in order to address its social goals.
Things to Consider
Chim Lee pointed out that the move to increase domestic consumption and reinforce frameworks for local research and innovation is not a movement away from global markets but the creation of a "double-circulatory system", where the domestic and global are both separate and linked.
The panel concluded by attempting to ease concerns about the Australia-US-China trilateral relationship, saying that all three countries are heavily economically linked and that this is not likely to change. However, they also agreed that Australia needs to be wary that agreements between China and the US will likely lead to import diversion, meaning that there might be less demand for Australian imports.
今天的网络研讨会重点分析了中国向社会政策驱动型增长模式的转变,以及尽管中国的重点从依赖出口转向依赖国内消费,但外国企业和投资在中国依然拥有充足机遇。
小组成员包括:诺恒咨询(North Head)董事总经理约翰·罗素(John Russell) ,李辰(《中国政策》科技与创新政策分析师、与《中国政策》社会政策分析师徐亮迪讨论了中国经济增长的新驱动力以及未来几年澳大利亚企业面临的潜在不确定性。
经济前景一般
首先,专家小组一致认为,政府今年的政策目标中没有明确的GDP目标(自2002年以来首次),而GDP是中国未来几年经济发展轨迹的一个重要指标。徐亮迪表示,虽然GDP的预期目标可能在3% – 4%左右,但选择关注社会导向的目标,如减贫、保障生计和稳定就业,表明中国正寻求通过刺激国内消费来解决收入、教育和医疗不平等问题。
然而,专家小组迅速向外国公司保证,不再依赖出口并不意味着商业和投资机会减少。尽管由于新冠肺炎疫情,中国经济明显有所下滑,但国际货币基金组织估计,中国今年将继续保持1%的正增长,并在2021年反弹至8.4%,而美国和欧盟可能出现大幅负增长。
这意味着,中国不仅继续欢迎外国企业和投资者,而且中国经济仍然为外国企业提供可靠的营商环境。通过1.8万亿澳元的财政刺激计划,中国旨在基础设施建设与产业创新,以及5400亿澳元的救助计划,外国企业——尤其是中小微企业——有机会实现多元化,并从新兴产业中获利。
关键的经济机遇
电子商务将是一关键性的行业。总经理特别强调,电子商务是政府经济增长计划的基础,希望2019年,电子商务实现68%的增长。中国已在105个进口试点城市开展试点工作,新冠肺炎疫情有望推动电子商务发展,扩大国内需求,同时也为外国企业享受免征商品及服务税、企业所得税等优惠提供其他优惠。
另一个有前景的行业是在线医疗和教育服务投资。虽然这些行业在新冠之前就已经出现,但必要的情况下,病毒的爆发使其在快速发展。这意味着,这些行业有很大的技术创新空间,因为它们目前仅是模仿现有教育与医疗服务,尚不完善。同时,考虑到政府的增长轨迹,为了实现社会目标,在线教育与医疗将得到大力支持。
事情需要考虑
李辰指出,增加国内消费和加强本地研究和创新框架的举措并不是远离全球市场,而是创建一个"双循环系统",即国内和全球既独立又相互联系。
专家组最后得出结论,试图缓解人们对澳大利亚-美国-中国三边关系的担忧,他们表示,这三个国家奖励往来纷繁多杂,这种情况不太可能改变。不过,他们也同意,澳大利亚需要警惕,中国和美国之间的协议可能会导致进口转移,这意味着对澳大利亚进口的需求可能会减少。