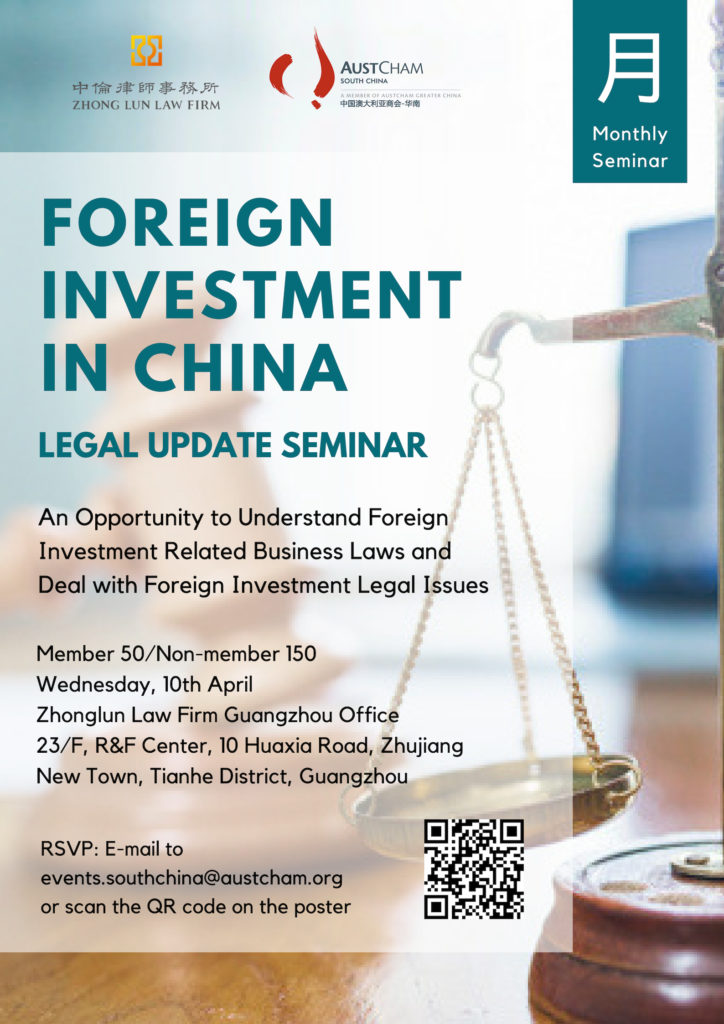 China recently released a new draft Foreign Investment Law for public review and comment. Once adopted, this unified foreign investment law will replace three existing foreign investment-related laws that regulate joint-ventures and wholly foreign-owned enterprises.
China also recently released a new draft Patent Law for public review and comment, and passed a new E-Commerce Law, the latter coming into force on 1 January 2019.
Join the Australian Chamber of Commerce (AustCham) South China and Zhong Lun Law Firm for our upcoming seminar as we address the impact of these new laws on foreign businesses in China and more.
The seminar will include a presentation from Zhong Lun covering the new laws, foreign investment in China in general, and common legal issues that foreign companies and individuals typically face when doing business in China, with potential solutions to those issues. Following the presentation there will be a panel discussion and time for Q&A.
This seminar is essential for foreign business owners and employees seeking clarification on the impact of the new foreign investment laws on their companies, and provides a chance for participants to ask questions about legal and foreign investment related issues they may be facing.
Stay tuned for more information about individual speakers and specific content that will be covered in the seminar.
Date: Wednesday 10 April, 2019
Time: 6:30pm – 8:30pm
Venue: Zhong Lun Law Firm, Guangzhou Office
Address: 23/F, R&F Center, 10 Huaxia Road, Zhujiang New Town, Tianhe District, Guangzhou 510623, P.R.China
Price: Members 50 RMB Non-members: 150 RMB
RSVP: Please scan the QR code on the poster or mail to events.southchina@austcham.org
Ticket cancellation and refund will not be acceptable within 24 hours before the event, thanks for your understanding.
日期:2019年4月10日星期三
时间:6:30pm – 8:30pm
地点:中伦律师事务所广州办公室
地址:广州市天河区珠江新城华夏路10号富力中心23层
价格:会员50元 / 非会员150元
活动开始前24小时内将无法取消报名或申请退款,感谢您的谅解。